What's your most overrated song in 2019
BRITTA
BEST OF BRITTA
The first time Britta. Driving through the Austrian lowlands at night in the summer in a friend's car. They play "DJ Holzbank" on the radio. It must have been in 2001. It was the time of Genoa, Schröder in Germany, the weekly anti-black-and-blue demos in Austria. The summer was supposed to end later with 9/11. At that time I didn't know anything about the DJing of the music world. Then I went to Vienna especially and bought it, the best German-language record in the world: "Collection Gold". Everything I knew about Berlin back then, even before I was there for the first time, I knew about Britta and "Collection Gold". Most of what I know about Berlin today I still know about it. Britta's Berlin was the city I wanted to move to. And finally moved too.
Years later, I only got to know the band. In the warehouse in Bremen. Back then, unfortunately, without the namesake Britta Neander, for it with Sebastian Vogel from edge on drums. It was just the record "The beautiful life" appeared and with it the hit "Who Wants to be a Millionaire?". A song like from Rio Reiser's late work, only truer and more beautiful and better.
17 years later I'm sitting here again, a few hundred meters away from where I heard my first Britta song. It's summer 2018 and the land here on the border is flatter than ever. I listen to my Britta records in the garden and google for old texts about this band, which you can find surprisingly little about online. Wonder how many of the best bands in the world have been put in and out of the way in the meantime. And what was left of it. And why Britta always stood around on the edge. Why there was actually no place for them in the Hamburg and Berlin schools. And whether in truth they were all just boarding schools for boys.
Britta just knew too much. And above all: they could think it all together. Britta knew about Neil Young, but also about old hits. And again and again they knew about Heinrich Heine. They knew the rules of Chinese roulette, the real meaning of the 2 oil tanks and they were able to give the moon face a name. Yes, Britta knew too much. And that without being intrusive.
Christiane Rösinger is probably the only person I know who has no real speaking voice, but always speaks in her own singsong, in which all her melodies seem to be preserved. Those that have already been written as well as those that have yet to be written. If Julie Miess' Bass runs turned into infinity again and were more of a melody as an accompaniment, Barbara Wagner's Fuzz guitars brought the beach of the West Coast into the dark songs, it was a rare elegance that was found here in the melancholy, and which made Britta's music something very special and unassailable. It was clear with every note: Champagne and not beer is drunk here. And then of course Christiane Rösinger's texts, in which a soft heart is paired in an inimitable way with hatred of people. Cactuses and class consciousness, precariat and an apartment that is way too big.
Before I knew about it, I was able to find out here how the private takes place in general and how it continually fails because of it. Stories about political disillusionment, overcoming it and again and again: about love as a capitalist construct. From the beginning, Britta was more research on living objects than the connoisseur pop from the laboratory. Texts that the nightlife society understood as such and dissected it, like in one of the great novels from the 19th century. Because the world happens between the words. And because the personal and private say the most about them. That the words will always be stronger than the smell that surrounds us. That they can be consolation, especially for those who write them down. That the music will always be there. And can potentially be anywhere.
Just like the Britta group will always be there. And everywhere.
Andreas Spechtl in summer 2018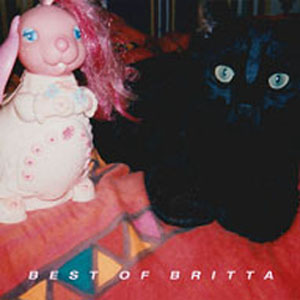 (Remastered)
Booking: Powerline Agency
______________________
Tour dates:
05.10.2018 Frankfurt, bread factory
06.10.2018 Cologne, Artheater
11.10.2018 Berlin, Festival Hall Kreuzberg
15.10.2018 Munich, below deck
16.10.2018 Leipzig, Plant 2
17.10.2018 Hamburg, Knust
20.10.2018 AT-Vienna, Fluc