"Project Veritas" - new US "journalism"?
Status: 01/31/2018 2:46 p.m. | archive
When US President Donald Trump attacks the US media, there are brothers in spirit who follow those words with action. James O'Keefe is one of them. 33 years old, last annual earnings: $ 317,000. O'Keefes "Project Veritas" receives support from prominent circles: Before the elections, the Donald Trump Foundation donated US $ 20,000 to the project.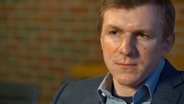 VIDEO: "Project Veritas" - new US "journalism"? (9 min)
Targeted attempt at deception
In Germany, James O'Keefe last hit the headlines when he sent an employee to the Washington Post with a fabricated abuse story. The then US Senate candidate Roy Moore impregnated her as a teenager, she should have had an abortion - the woman specifically told reporters for the Washington Post. But they did not fall for it and instead reported on the attempted deception. "Sometimes, when you work undercover, you are exposed," said James O'Keefe, commenting on the action in an interview with ZAPP. "The Washington Post claimed that my aim was for them to write the wrong story. That is wrong. It was just a means of having political discussions with reporters."
Big role model: Günter Wallraff
An alleged rape victim as a decoy? The tenor of O'Keefe said that these are necessary means to bring the overwhelming media to account. His methods are also children's stuff - compared to people like Günter Wallraff, said O'Keefe at a book presentation in New York. "The legendary reporter Günter Wallraff was undercover at Bild. What reporters like him did was really hardcore."
Covert research or spying?
"Project Veritas" works like this: employees are equipped with hidden cameras. They move to bars, network meetings and farewell parties, where reporters from the established media also appear. They try to gain their trust and get him into a conversation about politics. These recordings then end up in the network. "Without your will or knowledge, we will make you a celebrity on the Internet," threatens James O'Keefe in one of his clips.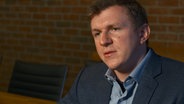 VIDEO: O'Keefe: "Media are more powerful than Congress, legislature, even than the President" (17 min)
His targets: reporters from CNN or the New York Times who question their own Russia reporting, employees on Twitter who brag that they can see any nude photo privately sent via Twitter Messenger, or a Washington Post reporter who talks about Donald Trump. At least that's what the clips that "Project Veritas" cuts together show - the "target people" are shown with their pictures and full names.
Wallraff: "Private areas are absolutely taboo"
Günter Wallraff was not very enthusiastic about his role model function in the USA: "This is shabby and dirty. It has nothing to do with journalism. This is spying of the worst kind." The reference to himself is an "abuse" of his work. "When it comes to serious grievances, one can also conduct covert research. But the private sphere is absolutely taboo," Wallraff told ZAPP. "Damn it, he's supposed to work for people in the USA who are very dirty."
But "Project Veritas" apparently does not recognize personal rights - one of O'Keefe's early works was the failed attempt to lure a CNN reporter onto a boat that he had decorated with sex toys and porn magazines. The reporter wanted to interview him for a documentary about the young conservative movement. O'Keefe's justification sounds like this: "Some of the most powerful people in the world take up my work and you ask me about a boat on which I was going to give them strawberries and champagne? John Oliver and John Stewart have done much more stupid things".
Loves O'Keefe: Milo Yiannopoulos, formerly with the right-wing news platform Breitbart.

Questionable fans

In fact, Trump took up videos from "Project Veritas" during the election campaign, which were supposed to show how Hillary Clinton's campaign team discussed ways of causing a riot when Trump appeared. And in his new book, O'Keefe writes how Trump once asked him to do research on Obama's college career at Columbia University, guided by the idea that Obama had mistakenly named Kenya as his country of birth.

The fact that James O'Keefe and his organization represent a certain ideology and a certain clientele is also clear from his book presentation in a New York luxury hotel, to which ZAPP was the only television team to have access. The "Project Veritas" fans: Milo Yiannopoulos, who was no longer tenable even for the right-wing news platform Breitbart, after he had belittled the sexual abuse of children. Monica Crowley, who was actually chosen by Trump for his national security team, but who had stumbled upon a plagiarism scandal before starting her job. Authors of right-wing extremist websites, former undercover employees.
Undermine the credibility of facts
Is O'Keefe's "Project Veritas" very critical: Dr. Nikki Usher from George Washington University.
For media scholars like Dr. Nikki Usher from George Washington University, Project Veritas is another wedge in American society. "We are at a crucial point right now - America is more polarized than ever". Cause and symptom of his actions: everyone believes in his own truth because there are no longer any basic truths that everyone can agree on. "O'Keefe undermines the credibility of those who still work with facts."
Disclosure platform "Project Veritas": America's new agitators?
James O'Keefe considers himself a kind of Günther Wallraff. He wants to expose the leading opinion makers in the country. His platform "Project Veritas" attacks the media - in a rather unsettling way and with strange methods. The self-proclaimed revelator was exposed himself. external
This topic in the program:
ZAPP | 01/31/2018 | 11:15 p.m.