What future do intelligent loudspeakers have
How do smart speakers and voice assistants work?
In a nutshell: SMART SPEAKER AND DIGITAL VOICE ASSISTANTS
By definition, a digital voice assistant is a computer program that recognizes and analyzes human speech. He replies with a computer voice. Well-known language assistants are Google's "Assistant", Amazon's "Alexa" and Apple's "Siri". They can be used on cell phones, PCs and many "smart" devices, for example smart TVs or in the car. Nowadays, many also use them in smart speakers.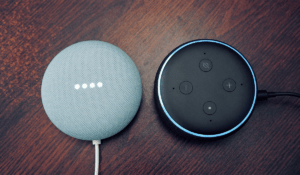 Smart speakers and digital voice assistants are becoming increasingly popular. (Photo: Yasin Hasan from Unsplash)
Smart speakers are intelligent speakers with built-in microphones that are connected to the internet. Examples are Apple's "Homepod", Amazon's "Echo" or Google's "Home". There are also smart speakers with a screen such as the "Echo Show". In common parlance, the terms smart speaker and voice assistant are often used synonymously.
Voice assistants can be activated using an activation word. With the smart speakers from Amazon, for example, this can be done using the activation word "Alexa" or, in the case of Google Home, with "Hey Google". Successful activation can be recognized by the fact that the light ring lights up or the button on the smart speaker changes color. After activation, you can control the voice assistant by voice command.
The future will be smart: LATEST FIGURES ON SMART SPEAKERS AND VOICE ASSISTANTS
In Germany, one in four adults has at least one smart speaker. The devices are particularly popular with people under the age of 35: One in three people has at least one smart speaker. These results are provided by a study by Beyto (1).
In the KIM study 2018, only the smart TV is mentioned with regard to smart devices. 27% of children between the ages of six and nine have occasional access to this. The same study also comes to the result that only 6% of households with children in Germany have a smart speaker. In contrast, 90% of children between six and thirteen have access to smartphones within the family, and 39% already have their own smartphone according to the KIM study by the mpfs (2). Although smart speakers and digital voice assistants are currently not yet heavily integrated into children's lives in Germany, this could change in the future with a view to current developments. The growing spread of smart speakers in German households and the increased use of smart speakers and digital voice assistants also make them an increasingly relevant field for advertisers.
Smart speakers are mainly used for:
Streaming of media content (music, audio books),
The use of smart home applications,
Information acquisition and
organization
How do children and young people benefit from the digital helpers in everyday life? And what are the risks of everyday use? Find out more about it in the second part of our smart speaker series! You will find specific information on the subject of data protection in the third episode.