Privacy ranking: Snapchat and Skype do poorly, WhatsApp wins
We use them every day and usually don't care enough about encrypting our messages: Messenger. Facebook, WhatsApp, Skype and Snapchat - who does best in Amnesty International's ranking for encryption?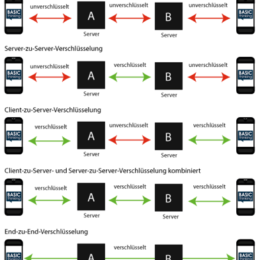 What is end-to-end encryption? (Click to enlarge)
End-to-end encryption is a crucial point when evaluating data security in a messenger. It means: The message is encrypted on the sender's device and only decrypted again on the recipient's device. This means that the content is not decrypted and re-encrypted at nodes and therefore never lies around unencrypted. As a result, even if the police want the messages from a messenger, the messenger does not have the data - they have never been unencrypted on its server.
Accordingly, end-to-end encryption is not an unimportant standard for ensuring that sensitive messages are actually transmitted in a protected manner. Amnesty International has examined 16 of the most important messengers worldwide from 11 manufacturers for their encryption - two well-known apps in this country do rather poorly: Snapchat and Skype.
Snapchat gives a false sense of security
Snapchat (26 out of 100 points) is in third from last place because it does not use end-to-end encryption and in return, of course, with the self-destructive messages it creates a feeling of data protection in the mostly very young users. Only Tencent (0/100) and Blackberry (20/100) do worse than Snapchat.
Tencent, the Chinese provider of WeChat and QQ, does not offer end-to-end encryption in its apps and has not spoken out publicly against backdoors for authorities, Amnesty justifies the classification. At Blackberry, the human rights activists complain that end-to-end encryption is only enabled for paying users and that Blackberry does not publish any transparency reports.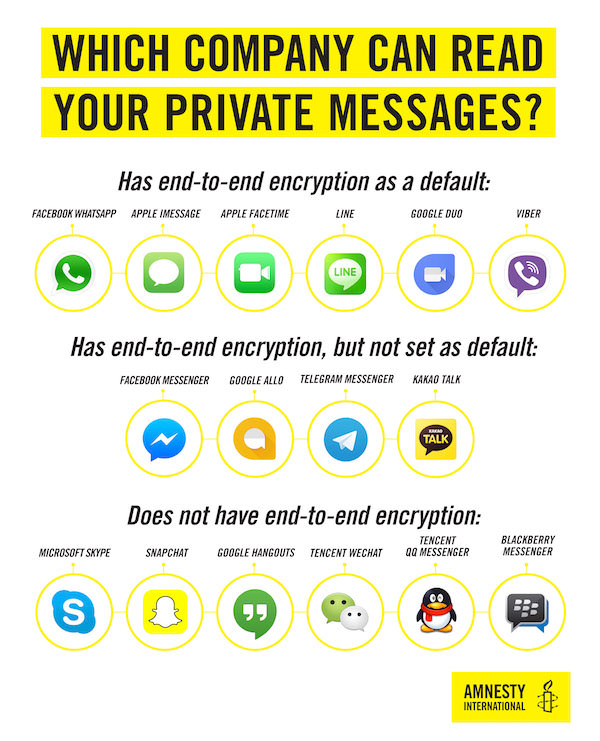 Overview of the encryption in popular chat apps (Image: Amnesty International)
Facebook, Apple and Telegram win
With Microsoft's Skype (40/100), however, there is only weak encryption, even though Skype is a popular target for state surveillance. In the first three places are Facebook (73/100), Apple and Telegram (both 67/100). Amnesty criticizes Telegram for the fact that end-to-end encryption is not active by default. At Apple, both Facetime and iMessage are completely end-to-end encryption.
Free LinkedIn guide!
Register now for our weekly BT compact newsletter. As a thank you we give you ours LinkedIn guide.
---
The ranking in the overview
Facebook (WhatsApp, Messenger) – 73/100
Apple (Facetime, iMessage) – 67/100
Telegram – 67/100
Google (Allo, Duo, Hangouts) – 53/100
Line – 47/100
Viber – 47/100
KakaoTalk – 40/100
Microsoft (Skype) – 40/100
Snapchat – 26/100
Blackberry – 20/100
Tencent (WeChat, QQ) – 0/100
---
Facebook wins with WhatsApp and Messenger. With Messenger, however, end-to-end encryption is not activated by default. WhatsApp, on the other hand, praises Amnesty for its encryption and explicitly for the notification when a message is not end-to-end encrypted. Not taken into account, as the makers write in advance, are all other points that belong to data protection. The rating relates purely to the encryption (keyword: WhatsApp forwards data to Facebook).
Amnesty Ranking: Meaningfulness doubtful
How meaningful is Amnesty's ranking now? Well The fact that it only refers to the encryption here quickly creates a false impression of data protection and security. Especially with Facebook or Google, for example, there is still enough in the dark with end-to-end encryption - even if not with regard to the content of messages, but certainly with regard to metadata and usage data. Nevertheless, it should be positively emphasized that Snapchat, Skype and Blackberry are getting a lot behind the spoons. A messenger in 2016 without end-to-end encryption no longer has anything to do with feasibility. Here, "Can't" clearly lives in "Don't want" street.
Also interesting: How to deactivate the data transfer from WhatsApp to Facebook - at least partially and unbelievably and wanted by Facebook: Anyone can access your private links shared in Messenger