Can you dye a sheep's wool
Dyeing wool is fun and not that difficult. The results are exciting every time and it's just great to see how the white wool becomes colorful and how the dyed wool first looks on the strand and how it then looks processed.
Here you can find instructions for dyeing wool with Easter egg color. This is how you succeed too and you can enjoy your own color creations.
What you need
Wool with a high proportion of animal fibers (e.g. made from 100% alpaca)
Easter egg color (here: color for cold dyeing)
Vessels for mixing the colors
water
vinegar
spoon
Latex gloves
scissors
Bucket (ideally with a lid) for pickling the wool
wipeable work surface
optional: reel and wool winder
Preparations
Which wool is suitable for dyeing with Easter egg dye
To dye wool with Easter egg dye, you need a yarn with a high percentage of animal fibers. Cotton and synthetic fibers do not take on the color! Sock yarn is very suitable for dyeing, but any other yarn made from virgin wool such as merino or alpaca also works.
Your wool should be as light as possible or previously undyed so that the colors come into their own. But you can also use wool that has already been dyed. However, you have to be prepared for the fact that the colors will be falsified; especially with a dark starting color.
Wrap the wool into a skein
For dyeing you need a strand of wool so that the color really goes everywhere. To save yourself work, you can buy the wool for dyeing directly as a strand. If you only have one ball at hand, you have to wrap it around. If you have one, use a reel for this. Otherwise, chair backs or the arms of a patient partner are also suitable. Please do not forget to tie off the strand loosely in some places so that the wool does not get completely tangled later! You knot the beginning and the end of the thread together.
Pickle wool with vinegar
So that your wool takes on the color well later, it is stained with vinegar beforehand. Mix vinegar and water in a ratio of 1: 4 in a bucket or bowl. So, for example, combine 1 liter of water and 250ml of vinegar. Be careful with vinegar essence! This is much more concentrated than normal vinegar and you need accordingly less.
Now put your strand of wool in this vinegar bath. You should make sure that the wool can be completely covered by the liquid, otherwise simply top up with water and vinegar. Your strand will now stay in this stain for a few hours. When I dye wool, I usually let it bathe overnight.
Tip: take a sealable container. Unfortunately, vinegar has an intense smell. For example, I use an old but thoroughly cleaned paint bucket with a lid so that the whole apartment doesn't smell of vinegar.
Just before you dye the wool, take it out of the vinegar bath again. You squeeze out excess vinegar water. Please do not wring the wool! When wrestling, the risk of the fibers becoming matted increases. You can then throw away your vinegar stain or keep it for the next time.
Dyeing wool
From now on you should wear gloves. Unless you want to dye your hands as well as the wool. It makes sense to work over a washable surface, e.g. the worktop in the kitchen.
Mix colors
For each color you fill a vessel with a little water. The exact amount doesn't matter. I use washed out ice trays and fill them with about 400ml of water. There is also a good dash of vinegar in each case.
Carefully cut open a paint cartridge and pour the contents into one of the bowls. Now stir well with a spoon and you can start coloring.
For strong, bright colors you need about 4 color cartridges per 100g of wool. If there is less Easter egg color, the wool will be lighter. So you get pastel colors, which can also look very nice.
Dyeing wool: now it becomes colorful
Dip your wool into the colors as you wish and gently press it in with a spoon so that it is completely covered with liquid. Make sure that no bright spots remain.
At the transition from the vessels, the wool initially remains white. If you want, you can of course leave it that way.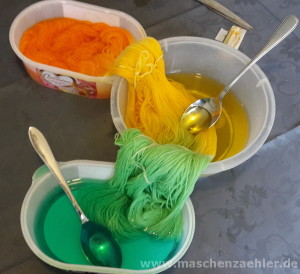 If you want smooth transitions from one color to the other, you can spoon paint from both vessels onto the wool. It is faster if you simply pull the strand a little in the direction of one color, so that the uncolored part is also saturated with color. Then you can pull it in one piece into the other paint container so that the colors mix at the transition.

Now leave the wool in this dye bath for a few minutes. Then you take them out and carefully squeeze out the excess water over the vessels. Be careful that parts of the rope do not fall into the wrong containers;) You can wipe your brightly colored hands occasionally so that you do not use them to distribute any color where you do not want them.
You can also see in the pictures that the color intensity decreases if you dye two strands with the same dye baths. The green in particular is significantly lighter on the second strand (last picture) than on the first.
Fix color
So that the color does not wash out later, it must be fixed. It works great in the oven. Simply place the wool on a clean baking sheet and place it in the oven for about 1 hour at 90 °. Be careful, it will be hot afterwards!
Wash out excess paint
When you take the wool out of the oven, let it cool down a bit first. Then wash off the excess paint under lukewarm water. Don't be frightened when the water starts to get brightly colored. This can happen and is completely normal. Your wool will still be colorful.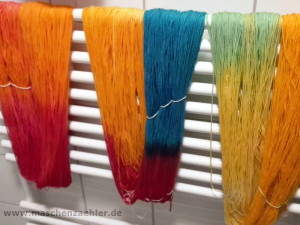 When the water is clear, gently wash your strand with wool detergent or a mild shampoo. Here, too, excess paint will come off again. Then rinse the wool again until the water runs clear and then squeeze out the yarn vigorously. Again: Please don't wring! Then you hang up the wool to dry.
graduation
When your dyed wool is dry, you can first twist it together as a strand and admire it extensively.
In the photo on the right, you can also see the white threads with which the strands are tied. In this case they were made of synthetic fiber and therefore did not take on any color.
Wool wrap
Before you crochet the wool, you have to wrap it in a ball. The easiest way to do this is of course with a wool winder. It is a little more laborious by hand, but also easy to master. You can find a video tutorial here.
Crochet!
Let's go to the needle! Here in the picture the right strand or the lower ball is processed together with black as a contrast. This ultimately resulted in the phlegethon cloth.
Published on
Category: Tips and Help