A hero among superheroes: comic book legend Stan Lee dies
He was the father of popular comic characters such as Spiderman, Thor, Hulk, Iron Man, The X-Men, Fantastic Four, Black Panther and Daredevil. The man who built the Marvel comic book empire and created around 350 characters died in Los Angeles at the age of 95. This is reported by the US media "TMZ" and "Variety", citing Lee's daughter and her lawyer.
"Today we lost a real superhero," condoled the Oscar Academy on Twitter. "Stan Lee, thank you for everything." Lee made people who felt different feel special, according to comedian Seth Rogen. "You were and always will be a superhero," wrote actress Jamie Lee Curtis. And the German rapper Casper agreed: "You, yourself, were the greatest superhero of all."
"One of America's most distinguished storytellers"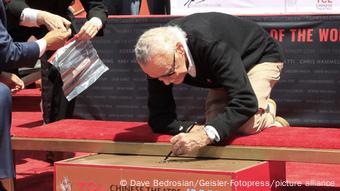 In July 2017, Stan Lee was still fit and immortalized in the Hall of Fame of the TCL Chinese Theater in Hollywood
In November 2008, Lee was awarded the National Medal of Arts by then US President George W. Bush, the US government's highest art award. At the time, Lee was celebrated in Washington as "one of America's most prominent storytellers" - for a genre that literary fans and critics had spurned a few decades earlier. It was not until the 1980s and 1990s that comic books turned into a kind of hip pop literature. Before that, they were something for a small fan base of nerds and outsiders - fantasy material for children and young people. Stan Lee didn't care: inventing characters wasn't difficult. Many of them were more human and more approachable than those of the competition: He relied on the human, natural sides of the aboveNatural heroes: Daredevil is blind, Hulk has outbursts of anger and the X-Men characters have physical, mental or behavioral weaknesses. On the other hand, Batman, in real life the millionaire Bruce Wayne, or Superman, who is flown from the sky as an almighty Adonis.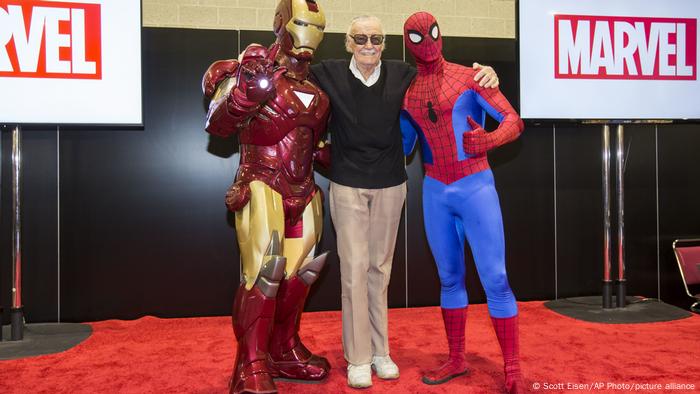 Stan Lee 2017 with "his" characters Iron Man and Spiderman
"I've tried to write characters as human beings who also have supernatural powers," Lee said in 2013. A superhero with weaknesses is a great role model, wrote Psychology Today. Peter Parker, who climbs the walls of skyscrapers as Spiderman, is an "average, sloppy boy," according to Stan Lee. He came up with the iconic blue and red spider man in the early 1960s together with his colleague Steve Ditko. The comic artist also died that year - on June 29 at the age of 90.
The whole world knows Lee's characters
The son of Romanian immigrants was born Stanley Martin Lieber in New York in 1922. He was still a teenager when he started working as an assistant at Timely Comics in 1939, which would later be called Marvel. His fill-in-the-blank in issue 3 of the Captain America comic in 1941 will be seen as a debut in a career full of "POW!" and "BANG!" seen. Today Lee's creations with blockbusters and video games reach millions of people around the world. Lee moved from New York to Los Angeles in the late 1980s. At the end of April 2018, the 95-year-old had attended the premiere of the Marvel superhero movie "Avengers: Infinity War" there.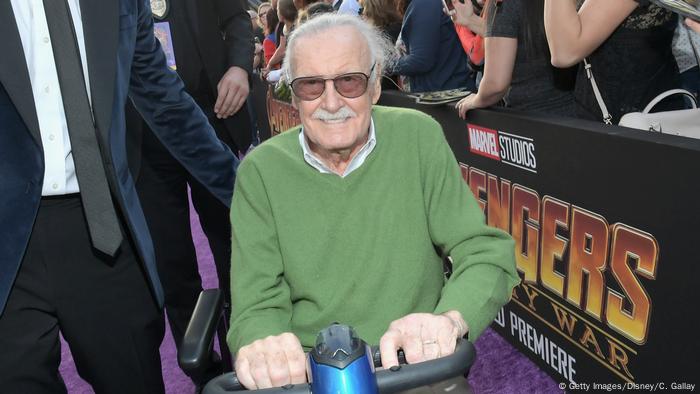 Stan Lee at the premiere of Avengers: Infinity War on April 23, 2018
Lee's own weakness, according to him, was that he didn't make a lot of money off his inventions, even as a Marvel publisher and editor-in-chief from 1972 onwards. "I was stupid in business. I should have been greedy," he said in 2017 - but his fortune is estimated at around $ 50 million. According to the Hollywood Reporter, Lee's daughter and her father fought bitterly over the future of wealth. Last year, Lee's wife, Joan, died at the age of 93.
nf / fw (dpa / afp / Hollywood Reporter)