Dubai's deceptive glittering world
The Emir of Dubai, Sheikh Mohammed bin Rashid al-Maktum, has invested heavily in developing his country from a dusty, oil-dependent patch in the middle of the desert into a modern, super-rich, innovative and attractive destination for businesses and tourists alike . It was only last week that the United Arab Emirates, which also includes Dubai, made headlines for reaching Mars with its own space mission.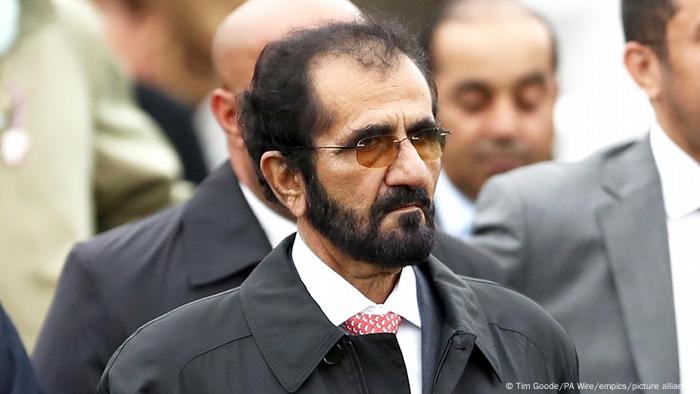 Where is his daughter Sheikh Mohammed bin Raschid al-Maktum
A few days later, however, the 71-year-old billionaire, Vice President and Prime Minister of the Emirates since 2006, came into the focus of the world in a different way. In a way that he would have preferred to avoid himself. Because the United Nations, international politicians and various human rights organizations turned their gaze to the fate of one of his daughters, Princess Latifa bint Mohammed al-Maktum.
The dark side of a bright picture
Princess Latifa is one of around 30 children of the Sheikh and has two sisters who have the same first name. In March 2018, she fled to India by sailing boat, but was then forced to return. Since then she has been held in a "prison villa". Tiina Jauhiainen and David Haigh, co-founders of the "Liberate Latifa!" Campaign, have now released secretly recorded videos from this villa after having heard nothing from Latifa for over six months.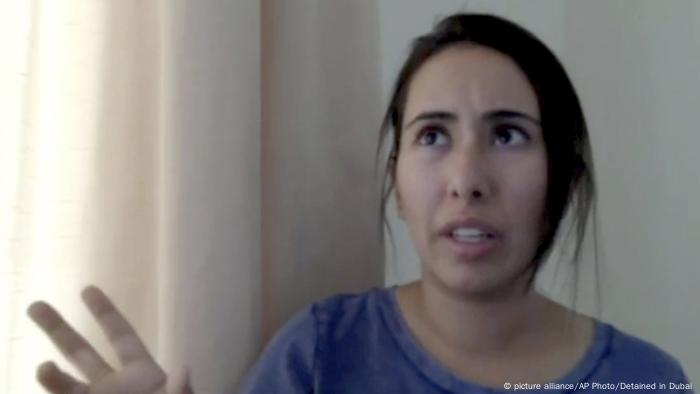 Princess Latifa on an undated video that she recorded while under house arrest
"We lost contact with her," Tiina Jauhiainen told DW, "but I'm sure she is still alive." The Finnish fitness trainer claims to be Latifa's best friend. She is now placing all hopes in US President Biden after he is said to have used his influence for the release of the Saudi Arabian human rights activist Ludschain al-Hathlul. Her colleague David Haigh is Latifa's lawyer and works for Detained International, a UK-based non-governmental organization that provides legal assistance to refugees around the world. He also appealed to the United Arab Emirates' head of state, President Sheikh Khalifa bin Zayid al-Nahyan, and his crown prince, Sheikh Mohammed bin Zayed bin Sultan al-Nahyan, to instruct Vice President Sheikh Al-Maktum "to release his hostage daughter immediately and thus ending the terrible time of parental abuse of power and human rights abuses that have badly damaged the reputation of the United Arab Emirates and appalled the world ".
Already the second missing princess
Amnesty International, Human Rights Watch, the United Nations and numerous politicians responded to this call and asked Sheikh Al-Maktum to provide evidence that Princess Latifa was still alive.
Hiba Zayadin, Human Rights Watch's Gulf region expert, points out that Latifa's older sister, Princess Shamsa, "has not been seen since she was kidnapped on the street in Cambridge in 2000." In 2019, one of the UK's highest courts, the High Court of Justice in London, concluded that Shamsa, now around 40, had been kidnapped, flown to France and forced to return to Dubai by force. "The court thus shed light on how the United Arab Emirates grossly disregard the rule of law - both inside and outside its borders," said Zayadin.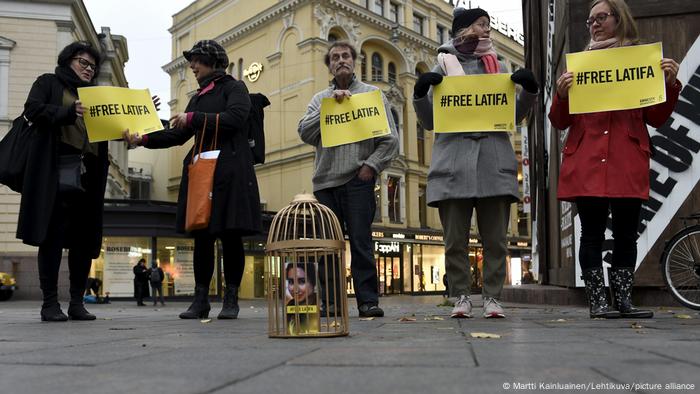 Amnesty International members in Finland are protesting for Princess Latifa's release
"Dubai benefits from a repressive environment, so that it can portray itself as a bastion of liberalism. But behind this glittering facade lies a much uglier reality, in which critics are locked up and the rights of migrant workers are restricted," explains Kenneth Roth, Managing Director of Human Rights Watch, told DW: "And a reality in which the ruler of Dubai imprisoned his adult daughter because she wanted to escape a life under his strict control. And UNHCR spokesman Rupert Colville confirmed that" we are these new developments within of the United Arab Emirates will certainly bring up ".
Appearance and reality
With great care and a lot of money, Dubai has built its reputation as a cosmopolitan metropolis on the Gulf, as a tax haven for companies and as a global financial center - and the emirate presents itself as significantly more liberal than its neighbors Saudi Arabia, Oman or Qatar. Luxury hotels and numerous attractions turned the emirate into a tourist magnet. Tourism accounted for around twelve percent of the gross domestic product in 2019 - and the trend is rising.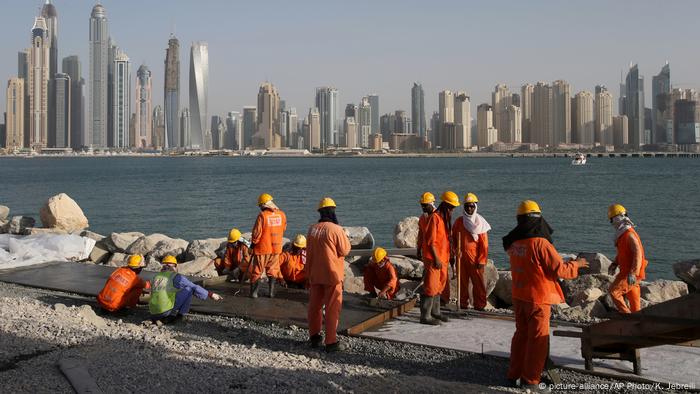 Migrant workers on a construction site in Dubai
Dubai relies entirely on consumption because it lacks historical or scenic highlights. And the emirate is open to online influencers who would like to live in the emirate. They are benefiting from the latest legislative reforms in the country, according to which so-called "honor killings" are now criminalized, unmarried couples are allowed to live together and people over the age of 21 are allowed to buy alcohol and take it home with them. Nevertheless, they have to abide by the laws of the country when reporting on their life on Instagram or Twitter. Kissing, swearing, or supporting LGBT rights is not allowed. And even the fate of Princess Latifa will not find its way into the Instagram stories of the Internet starlets. A princess - or two - in a prison mansion? That certainly does not fit into the image that the Emir of Dubai would like to convey from his emirate to the world.