What are your favorite guitar strings
Slash
Influences of Slash
Slash's tools: worn out, his technology: yesterday's news, his rocker image: way too old school, his music: also old-fashioned. From today's perspective, what one could say about almost every guitarist of the last century certainly also applies to Slash, who was born as Saul Hudson in England. The only difference is that he was absolutely retro in his early days with full ardor.
It is all the more astonishing how much freshness and innovation one can or must attest to the music of Slash's band Guns N 'Roses and especially his guitar work today. He himself said back then: "I am the opposite of everything that was popular in the mid-80s," and he is right again. Let's agree: If Slash weren't so good and independent on his instrument, he would have been at least two decades too late.
It's no wonder: Anyone who has been enthusiastic about bands like Aerosmith, the Rolling Stones, Led Zeppelin or Cream from childhood can only become a fan of energetic, blues-rocking guitar playing.
When did Slash start playing guitar?
Slash got his first guitars as a teenager, first a nylon-string acoustic, and later the long-awaited Les Paul copy from Memphis - and this was the beginning of a love that continues to this day: his favorite guitar is still the Les Paul.
Saul Hudson quickly knew that he wanted to become a professional guitarist, perhaps driven by his parents, who also worked in the music business. He began to practice up to 12 hours a day, took a few hours of lessons, but soon dropped them again and from then on relied on learning-by-doing.
"I have learned a couple of pentatonic scales," he says, but quickly left them aside and concentrated on listening out and playing back his favorite recordings. He liked "any band that had a guitar and played good music" and was a big fan of guitarists like Jimi Hendrix, Johnny Winter and Ted Nugent.
So he never got tired of transcribing, because "just playing two notes and noticing that they sound exactly like on the recording was the absolute fulfillment for me". In this way Slash developed a large repertoire over time, both on a solo and rhythmic level, played in various cover bands, until he finally met the colleagues of Guns N 'Roses and began to write rock history.
Back to overview
The equipment from Slash
Four words are enough to name Slash's equipment: Les Paul plus Marshall. These are the solid pillars of his sound. Slash has always been a fanatical guitar collector, but he is mostly on stage with his Gibson Les Paul Standard from 1987 (or his famous 1959 Les Paul copy by Chris Derrig) and several Marshall JCM heads. As common as his equipment is, his settings are just as unusual.
The buttons on his amp are almost in the same position a little above the middle, i.e. bass, treble and volume at 7, mids and presence at 6. On his guitar, which is usually tuned a semitone lower, he uses it for solo passages spongy neck pickup and also turn the treble control back a little. This makes his tone bold, but understandably loses its assertiveness in the highs, which Slash compensates with his hard attack. Slash uses floor kicks or other effects very sparingly. He only grinds a Boss delay pedal into the amp's effects loop. For clean passages, some reverb and chorus from a Yamaha multi-effects processor are added.
If you want to know more about Slash's devices and their settings, take a look at previous features of this magazine (including 03/1992, 04/2000, 03/2001 and 04/2010) or at: www.slashsworld.com/equipment.
Slash gear
Studio guitars: B.C. Rich Warlock, B.C. Rich Mockingbird, Fender Telecaster 1952, Fender Stratocaster 1965, Gibson Les Paul Standard 1959 replica, Gibson SG 1960, Gibson Flying V 1959, Gibson Explorer 1958, Gibson Les Paul Goldtop 1956, Gibson ES-335 1967, Gibson Les Paul 12-String 1990 , Gibson Slash Les Paul Appetite, Gretsch 6120 Setzer, Travis Bean 100
Live guitars: B.C. Rich Mockingbird, Gibson Les Paul Standard 1976, Gibson Les Paul Goldtop 1987, Gibson Slash Les Paul Snakepit 1996, Gibson Slash Les Paul Standard 2008, Gibson Slash Les Paul Appetite 2010, Gibson Slash Les Paul Standard VOS Aged 2008, Gibson Slash Les Paul Goldtop 2008, Gibson EDS-1275 Doubleneck 1975, Guild Crossroads Doubleneck, Travis Bean 1000
Signature guitars: Gibson Slash Signature Les Paul (SSLP for short) Custom Shop 1990, Gibson SSLP Snakepit 1996, Gibson SSLP Standard Dark Tobacco Burst 2004, Gibson SSLP Standard Tobacco Burst 2008, Gibson SSLP Standard VOS 2008, Gibson SSLP Standard VOS Aged 2008, Gibson SSLP Goldtop 2008 , Gibson SSLP Appetite 2010, Gibson SSLP Appetite For Destruction VOS 2010, Gibson SSLP Appetite For Destruction VOS Aged 2010, Gibson SSLP Rosso Corsa 2013, Gibson SSLP Vermillion 2013
Amps, Cabinets & Speakers: Marshall 1959T Super Tremolo, Marshall JCM 2555 Silver Jubilee, Marshall JCM 2555 Slash Signature, Marshall AFD100 Slash Signature, Marshall JCM 800 2203, Marshall Vintage Modern 2466, Marshall 1960 BV 4 × 12, Marshall 1960 BX 4 × 12, each with Celestion Vintage 30s or Celestion Greenbacks
Effects: Boss DD-3 Digital Delay, Boss OC-3 Super Octave, Boss GE-7 Equalizer, Dunlop Cry Baby DCR-2SR Rack Module, Dunlop Cry Baby 535Q, Dunlop Cry Baby SW95 Slash, Dunlop Heil HT1 Talkbox, Whirlwind Selector A / B Box, MXR M108 10-Band Graphic EQ, MXR M134 Stereo Chorus, MXR M104 Distortion, MXR M101 Phase 90, MXR M103 Blue Box, MXR MC401 Boost / Line Driver, MXR Cry Baby KFK Q Zone, MXR M135 Smart Gate
Find out more about Slash's technology in the large Equipment Special!
Back to overview
The sound & playing technique of Slash
Much more interesting than the techniques Slash uses is which one he leaves out. Growing up in a time when guitar heroes were just popping up and new techniques such as sweeping, tapping, whammy bar thunderstorms etc. were becoming popular, he has never been able to warm up to virtuoso shows. "I am not a gifted soloist" he once stated in this magazine.
If you look at it from a sporting point of view, he is right, musically he is completely wrong with this assessment. As I said, it is the counterpart to everything that was popular in the 80s, a time when Satriani brought the 'Satch Boogie' (1987) to the people, Van Halen had long since popularized tapping with 'Eruption' in 1977 and guitarists like Frank Gambale or Vinnie Moore showed guitar-savvy music lovers with their sweepings where the hammer hangs.
None of that can be found with Slash. He restricts himself to mundane techniques - such as bending, legato and vibrato - and often creates a lot more music than his colleagues who are looking for effects. What is striking about Slash is the loose, but hard-hitting right hand. Due to the low hanging guitar, his arm is almost stretched, but the wrist is very strongly bent in order to create a parallel position of the hand to the strings.
Slash's left hand usually only uses index, middle and ring fingers, which results in frequent changes of position. This is surprising, as Slash takes the two most well-known basic positions of the minor pentatonic scale (with the root note on the low E or A string) as the pivotal point in almost all solos and is therefore tonally fixed.
Due to the limited span of the three fingers, he repeatedly breaks two to three frets up and down from this position. As described in more detail in the explanatory text for the transcriptions, the pentatonic scale is his main work tool, but by no means the only part of his vocabulary.
He prefers to use the major scale for his melodies in ballads and a mixture of Mixolydian and blues scale in faster rock songs. He stages this sound material with many bends, legato runs, a wide but slow vibrato and above all a very varied rhythm.
Back to overview
Slash private
Slash was born on July 23, 1965 in London Hampstead. His real name is Saul Hudson. At eleven, after his parents separated, he moved to Los Angeles with his mother. Here Slash went to Beverly Hills Continuation High School - privately he passed the time riding BMX and playing guitar. In the 11th grade he dropped out of school and formed his first band called "Road Crew" with Steven Adler. This merged with the band "Hollywood Rose" in 1985 and became Guns N 'Roses. The rest is music history - if you want to read it again, you can find out everything about the band's history here.
After two unsuccessful marriages (to Renee Suran and Perla Ferrar), Slash found happiness with Meegan Hodges, with whom he has lived in an estate in San Fernando, LA, since 2015.
Slash has two sons from his marriage to Perla Ferrar - here the family gives an interview during a visit to the LA Galaxy stadium in 2012:
Back to overview
Slash discography
Guns N'Roses
Appetite For Destruction (1987)
G N'R Lies (1988)
Use Your Illusion I (1991)
Use Your Illusion II (1991)
The spaghetti incident? (1993)
Slash's snakepit
It's Five O'Clock Somewhere (1995)
Ain't Life Grand (2000)
Velvet revolver
Contraband (2004)
Libertad (2007)
Slash solo
Slash (2010)
Apocalyptic Love (2012)
World On Fire (2014)
Back to overview
Top 6: Slash's favorite songs
Led Zeppelin: Whole Lotta Love
"This song had an almost magnetic effect on me when I was four or five years old. Simply because of this brilliant guitar riff at the beginning. And the way the bass, vocals and drums come in. It's so sexy, so disreputable, so vulgar. It stands for the most hedonistic decade of all time - for sex, drugs & rock'n'roll ".
Aerosmith: Back In The Saddle
"'Back In The Saddle' I discovered in a girl with whom I had wanted to go to bed for a long time. But when I finally sat on her bed, she put on this single. As a result, she was suddenly completely uninteresting. (laughs) I ignored her completely and only played this song - until she kicked me out. "
Black Sabbath: Iron Man
"In the early '80s, I used to go to Errol Flynn's estate in the Hollywood Hills, where they met for collective acid trips. What was great: The stars were twinkling, the girls were hot, and I was completely high. One evening, Iron Man ran - which almost blew my head off. It was an experience that changed my life forever. "
AC / DC: Back In Black
"I had just started playing guitar when this song came out. I was visiting Seymour Cassel, who gave me the nickname Slash when I first heard it. He had this rhythm, which is still the most important thing for me to this day. Namely something that is lascivious and dirty. Just like sex - only much better. "Here's the milestone AC / DC Bck in Black
Stevie Wonder: Living For The City"My mother's favorite song that has something moral about it. It's about a country guy who moves to the big city but gets lost in drugs and just messes it up. Which is nothing other than what I sing about in, 30 Years To Life '. What happens when you are too carefree. And in between I was a junkie myself. "
Erik Satie: Gymnopédies
"This French composer has nothing to do with rock'n'roll, but my father always played him when he had a few bottles of wine too much. Then this music played and he painted to go with it. Which is why she still fascinates me to this day. I could even imagine that it will run at my funeral. "
Back to overview
Interview with Slash
In the guitar & bass interview in 2014, the father of two proved to be an entertaining conversation partner who openly chats from the sewing box - and clearly enjoys it.
Slash about drugs
Slash, three albums in six years, plus dozens of tours, guest appearances and side projects - why the sudden ambition?
Slash: It has always been there. The only problem was that I mostly played in bands where I couldn't really live it out. Or that I was way too stoned for a long time to be really creative. (laughs)
But shouldn't drugs act more as stimulants and catalysts? In other words: To increase creativity?
Slash: That may be true. In my case, they were more of an escape to deal with all the stress and madness at Guns N 'Roses. Most of the time I was so close that creativity was really out of the question ...
And are you trying to compensate for that by being particularly active now?
Slash: That also plays a role. But I don't know whether I can actually make up all the time that I wasted pointlessly. But today I try to make the best music that is in me and also to be constant. In the sense that I don't sit back and rest on my laurels, but use every available moment for things that help me advance, that are important to me and that are fun. That fill me as a person and a musician.
Slash over guitar solos
How did you approach the solos on World On Fire '? You can hear one thing in every song ...
Slash: The main solo is basically always the same: We go in there, put the song together and then I see what kind of solo I can contribute. In other words: It's always the very last thing in the work chain, like the icing that is added at the very end. First you usually have the intro, then you figure out what the verses might look like, and so on. When it comes to the guitar solos, 99.9 percent of the time, I just hear it. So that it is instinctively clear to me what has to be at this point. And that also implies that I know which way it is going. In other words: There is a beginning, a middle part, an end and a certain space for a solo in which I move.
Nine out of ten cases, though, that I keep the first idea I had. Which also means: When we then play the song, I may not bring exactly the same solo, but the same feeling, the same melody and the same structure. Because all my solos always have something melodic about them. You're kind of like I'm singing the song at this point. Whereby I completely rely on what I hear and feel. From the first moment I develop a solo to the moment I record it. In this process it is constantly changing while the structure remains the same. Which also means: With all improvisation, it follows a very specific mode. And so it is with everything I do. Because in the end it is always like this: The song dictates the solo and not the other way around.
Slash on his guitar collection
You supposedly own well over a hundred guitars, but you hardly play them. May I ask where you keep them?
Slash: Most of them are stored somewhere. And it used to happen that I no longer knew exactly where. Which was quite a mess. I'm better organized now, and I have to be. Simply because I've bought so much stuff over the years. Most of the stuff is from the early 90s when I recorded Use Your Illusion '. Because back then I had the financial means, but just couldn't handle money. In the sense of: It literally burned my fingers and I didn't know what to do with it. Simply because I didn't need it.
Until at some point I thought: we're recording 36 songs, and for that I need all these different guitars! So I bought a large selection of expensive vintage models that I still have today. However, over the years I had to realize that I made a slight miscalculation. Because a really good guitar is actually enough. Especially since I can handle a new one as well as a vintage one. If you do it right, you can hardly hear a difference.
They are likely to have increased in value enormously over the years.
Slash: They definitely have. Only: I hate to think of guitars as pure investments. After all, these are things you would never sell unless you absolutely had to. So when you are really on the ground and don't know what to do next. I hope that will never happen. And I would also like to have a place where I could exhibit them. Simply because a lot of them have a nice little story. And because it would be great if other people could enjoy it too.
Slash about his signature models
How many Slash Signature models are there now?
Slash: I guess it's eleven or twelve. But I'm not sure. I just know they're great - simply because I use them myself.
May one ask to what extent do you personalize these models and how involved are you there?
Slash: That's one thing I'm very active in. Simply because it is important to me. For example, I want the neck to have a certain texture, I want a TonePros bridge, I want specific pickups, I want specific tuners, and so on and so forth. So I'm very specific about the guitars and their electronics. For example, I like old fashioned Bumblebee capacitors and lots of other little things that are insanely important. At least for me. But: in the end - and that's the point - it's always the same guitar. (chuckles)
Slash about Jim Marshall
Do you miss jim marshall
Slash: Even very. Because he was really great. Great guy. And he's had a really long and successful career creating some things that will probably last forever. Which are made to last forever. For that matter, he has made a lasting mark on the music industry. And he's gotten pretty old too. In other words: He could definitely enjoy the fruits of his labor. Not to mention leaving a great legacy and a healthy company.
Slash about getting older
You yourself will be 50 * next year - a terrible thought?
Slash: No, I'm even looking forward to it. Even if only because I never expected that I would be that old. Which also applies to my environment. I mean, people have placed bets that I won't make it to 30. Simply because I gave so much gas that it was enough for two lives - at least. And I'm happy that I got around the corner and hit the brakes just in time. Otherwise I wouldn't be here now - and would have missed something remarkable. Namely, that everything gets a little better and easier with age. What I can do with my guitar playing alone, which today contains much more feeling, but also experience than before.
Seriously: I understand the instrument much better, I have a more intimate relationship with it and a greater understanding of it. In other words: I am no longer as restricted as I used to be. If I play today, it's a completely different, a much more exhilarating trip - and the sex is better too.
How do you fix that?
Slash: (laughs) Ask my wife
* The interview is from 2014
You can find more interviews in the Slash Special as a practical download!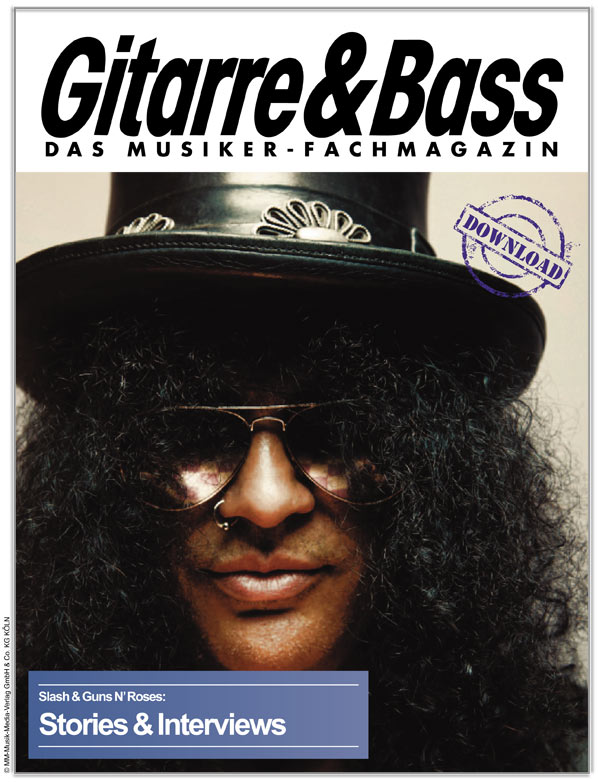 Interview / Text: Marcel Anders / Arnd Müller