Why do we long for carbonic acid?
Drinking properly in summer - the best tips for the hot season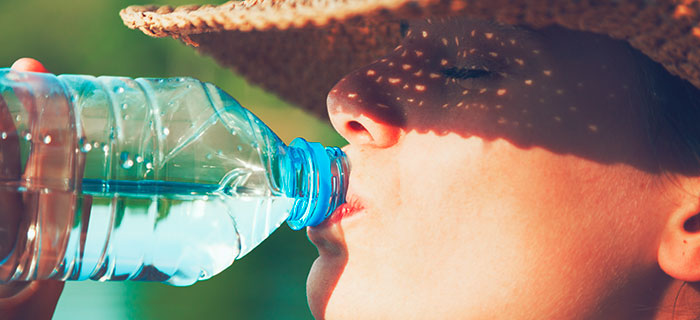 If you had known: The human body loses a total of up to three liters of water every day. Water is considered to be the food par excellence: after all, we consist of a good 60 to 70% water. Therefore, especially in summer, you should make sure to drink enough fluids. Because only with a balanced water balance can the most important functions of our body run smoothly. Otherwise, signs of internal dehydration such as tiredness, dizziness, low blood pressure, headache or difficulty concentrating can appear very quickly. We are telling you today what you should pay particular attention to and which tips and tricks are recommended for everything to do with drinking properly.
Tip no. 1: It is best to always use pure water
In summer in particular, there are a wide variety of drinks to quench your thirst - from the classic apple juice spritzer and countless lemonades to chilled, homemade iced tea. The best drink recommendation is and remains simple, pure water. Whether with or without carbon dioxide - the decisive factor is v. a. your own taste. In fact, carbonated water - contrary to its often bad reputation - also has numerous advantages. It provides, among other things. for better blood circulation in the oral and gastric mucosa. If water alone is too boring for you, you can simply add a slice of lemon or fresh peppermint to your drink.
Tip no. 2: When you drink the amount, trust your feeling of thirst
When it comes to drinking the right amount, opinions differ - even among experts. Often at least two liters per day is recommended. But there is also often talk of 1.5 liters as the ideal amount to drink. However, there are also people who are generally less thirsty and therefore manage with less fluids. Therefore: Better watch your body carefully and find your ideal amount to drink step by step. Listen to your own feeling of thirst instead of strictly counting the number of liters.
Tip no. 3: Better to be lukewarm than ice cold
Especially when it's hot, we long for an ice-cold refreshment, preferably with ice cubes. However, very cold drinks are not ideal for health. They can even put a strain on the circulatory system. The greater the difference between the temperature of the drink and your own body temperature, the more the organism has to do to compensate for the temperature difference. In addition, drinks that are too cold can lead to stomach upsets. It is therefore better to drink lukewarm drinks, e.g. B. Tea and rather avoid cooling ice cubes.
What is your favorite drink in summer? Tell us your tips and tricks about drinking properly!
You can find more tips and information on nutrition in our GEFRO shop in our nutrition tips or in our GEFRO journals.