WordPress only uses a MySQL database
Create and manage WordPress databases
Easy organization thanks to WordPress & MySQL
Instructions for creating, saving and editing databases
WordPress offer
Why create a WordPress database?
A fast database is essential for a WordPress website. It serves as a Storage location for texts, user data and individual settings Your website. Via the database, you and your users can access the desired content, which has been released depending on the user role, and which can also be conveniently managed. If you install WordPress via a hosting package, a database is usually created automatically for you, but you can of course create a WordPress database yourself. Here you can find out how to do this and how you can then back up and manage your database.
Full control over your data
Quick access and easy operation
Clear, graphical user interface
No programming knowledge required
---
How to create a database for WordPress
Create and manage WordPress databases, for example using the database management system (DBMS) MySQL as well as the tool phpMyAdmin. If you install WordPress on a local computer (e.g. for test purposes), you have to download MySQL yourself, as well as the graphical user interface phpMyAdmin. MariaDB can also be used as an alternative DBMS. This is an open source software that is based on MySQL.
These programs are in the WordPress hosting packages from STRATO already set up. All you have to do is log into your hosting account and navigate to your package overview. click on Databases and web space and then on Database management. There you create a new WordPress database before installing WordPress:
click on Create database.
Make a note of the information that appears about the new database, including the database name.
Change the preset password of the database and choose a combination of lower and upper case letters, numbers and special characters for the new one.
If you wish, you can add a comment to the new database to make it easier to find again later.
---
What does WordPress need MySQL for?
MySQL is a database management system that stores data in a table so that it can be changed at any time quickly access, organize and edit to let. MySQL handles large amounts of data with ease and uses very little storage space - this is why many content management systems (CMS) such as WordPress use MySQL.
For example, all the posts that you have created for your website or blog are stored in the database. In contrast to static websites, the content of a CMS like WordPress is not in individual HTML documents that are linked to one another. At WordPress are all content in one database.
---
How does MySQL work and what can it do?
MySQL is based on the database language SQL. This is simple and user friendly. Thanks to his simplicity and speed MySQL is one of the world's most popular database management systems. Since MySQL itself does not have a graphical user interface, the program is often combined with phpMyAdmin, which provides a clear user interface.
MySQL works as a Client-server system. The corresponding database provides the server dar and a graphical user interface such as phpMyAdmin enables as Client comfortable interaction with the server. You use this interface to send commands or requests (so-called "queries"; singular: "query") to the database, which translates them into code and executes them. After your request has been successfully processed, you will receive, for example, a data extract or a message.
MySQL saves all data in binary format - the data can therefore only be edited with MySQL tools. MySQL can store any number of independent databases, it allows creation many users with different access profiles as well as secure password protection.
---
Note on phpMyAdmin
With phpMyAdmin you can see your database clearly and graphically. You can change, manage, backup and restore the WordPress database via the corresponding interface. On the left you can see the individual tables on which your website's data is distributed. If you click on one of the tables, you will see the relevant data. In the middle in the upper half you will find further functions - such as SQL. There you can Enter SQL commands directly. However, only use this function if you are familiar with the programming language, as incorrect entries can quickly lead to errors in the database.
---
Back up WordPress databases
With a STRATO hosting package, you benefit from regular, automatic data backups. You can also back up your WordPress database yourself at any time if you wish. You do not need an additional WordPress plug-in for this, because you can also do this quickly and easily via your account - with the aforementioned phpMyAdmin. To do this, go to again Database management and click the button Managelocated to the right of the WordPress database that is displayed.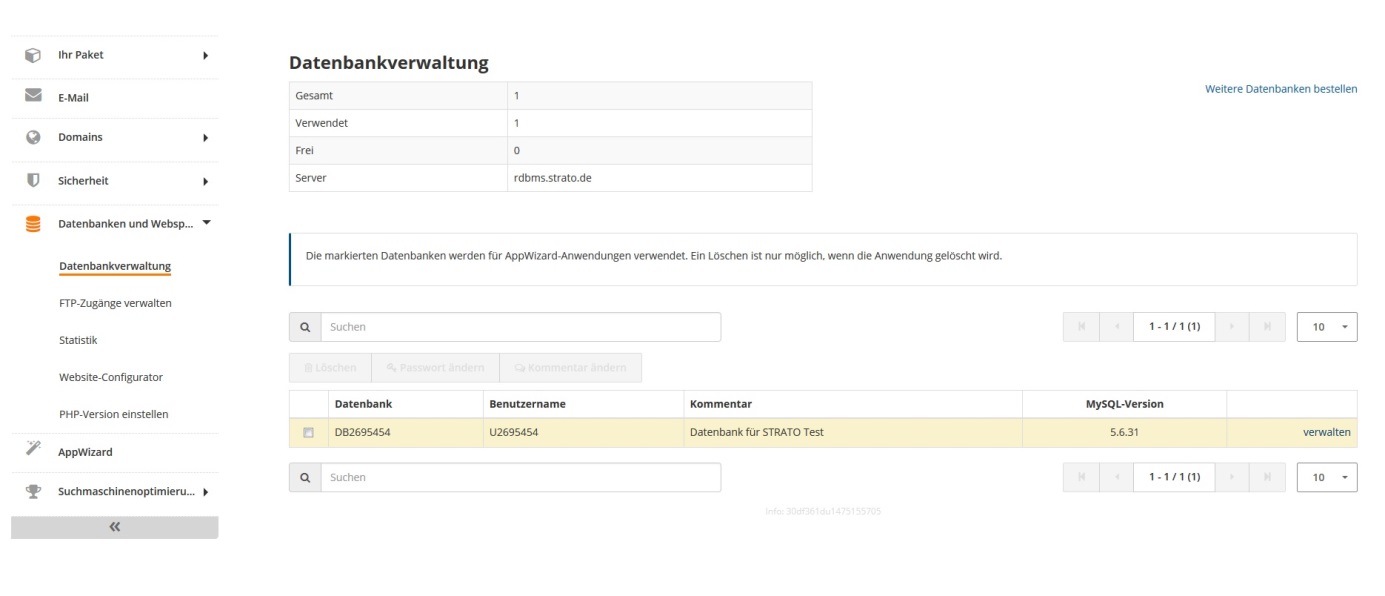 The database administration in the STRATO customer login
You get to the User interface by phpMyAdmin. There you select the tab in the top bar Export and then the format. By default, SQL should be selected here, which you can leave as it is. With one click you can then download the database to your computer and save it there. This is also important if you want to integrate the WordPress database into a backup. Without this step, all content would be lost.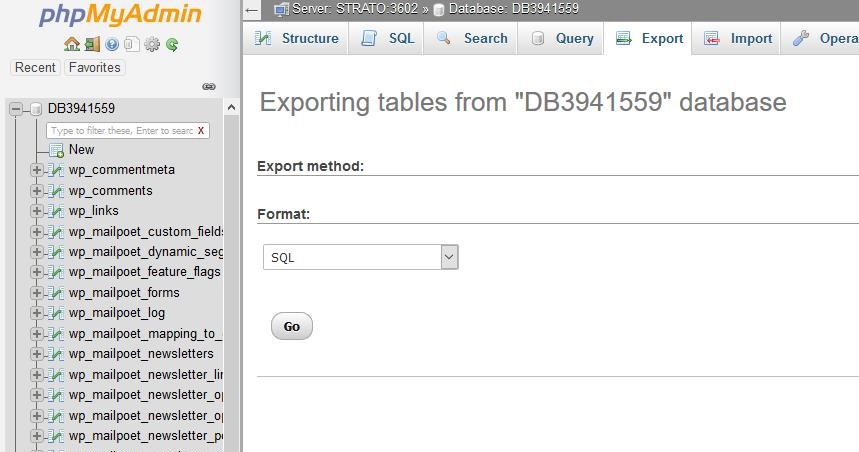 Export database
In order to create a backup, there are of course also numerous extensions available. But no plug-in is required to save the WordPress database. If you are working manually, you have the complete control and can understand exactly what is happening. For a full backup, all you have to do is back up the files in your webspace.
---
Restore WordPress databases
You now know how to create a backup of your database yourself - but how do you restore it if necessary? This is also possible via phpMyAdmin. Instead of on Export go on this time Import, then click on Search and select the previously saved file. After clicking on OK starts the database recovery, it takes time just a few seconds. You will receive a message after the import has been successfully completed.
---
Clean up WordPress databases
The more Storage space Your database occupies the longer the loading time Your website will be - so you should use the Clean up the database regularly. WordPress not only saves your published posts by default, but also all drafts. Even the deleted posts remain in the database. Click the menu item on the left in the long, vertical menu bar wp_posts at to an overview of all your posts and drafts to obtain.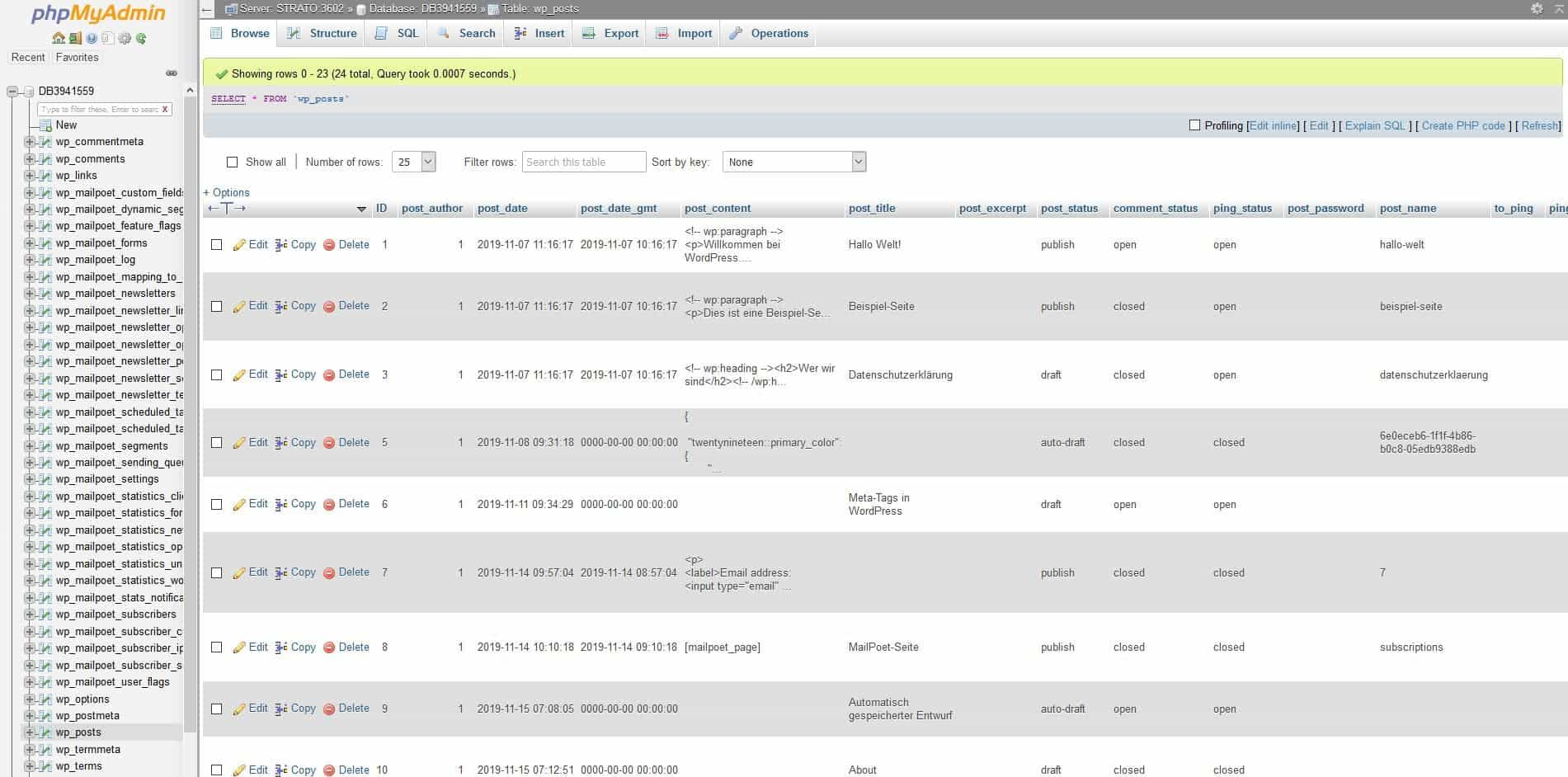 The post overview under phpMyAdmin
In the column post_status see the status of each post. All entries with the status draft ("Design"), auto-draft or trash ("Waste") that you no longer need, you can safely delete itto relieve the database. These are drafts or posts that have already been deleted in the backend. You can also send unwanted comments via the database under the menu item wp_comments delete permanently.
Note: Always remember to act with caution and change something directly in the database so as not to accidentally delete important content.
---
Repair WordPress Database
The database is of central importance in WordPress, so the cause of many website problems is related to database errors. If nothing works and you have not created a working backup, it can help to repair the WordPress database. Fortunately, the CMS has it for that a built-in tool, which you have to activate first. To do this, open the file wp_config.php on your server. The best way to do this is to access the web space via FTP. Open the file and paste the following line of code:
If you save now, the tool will be available to you as soon as you open your website in the browser and the following Append the ending to the URL: /wp-admin/maint/repair.php. Now you can have WordPress not only repair the database, but also optimize it.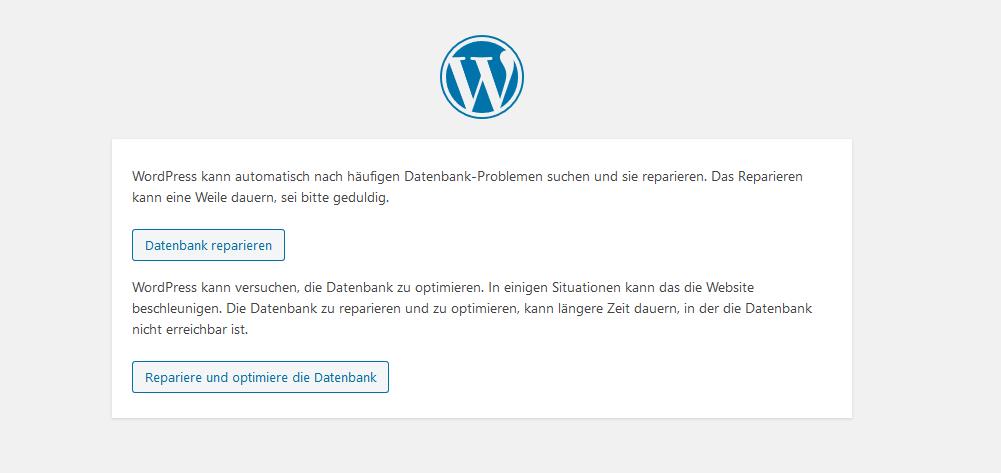 The tool for repairing and optimizing the WordPress database
It is extremely important that you deactivate the tool after the process. Since you don't have to enter a password to use the tool, it is otherwise a big one Security risk Therefore delete the previously entered line of code.
Also phpMyAdmin has its own repair tool. Log into the software and mark all available tables in the overview - or, if you can localize the problem precisely, only the table that is causing the problem. In the selection menu at the bottom of the overview you will then find the option to repair the corresponding tables.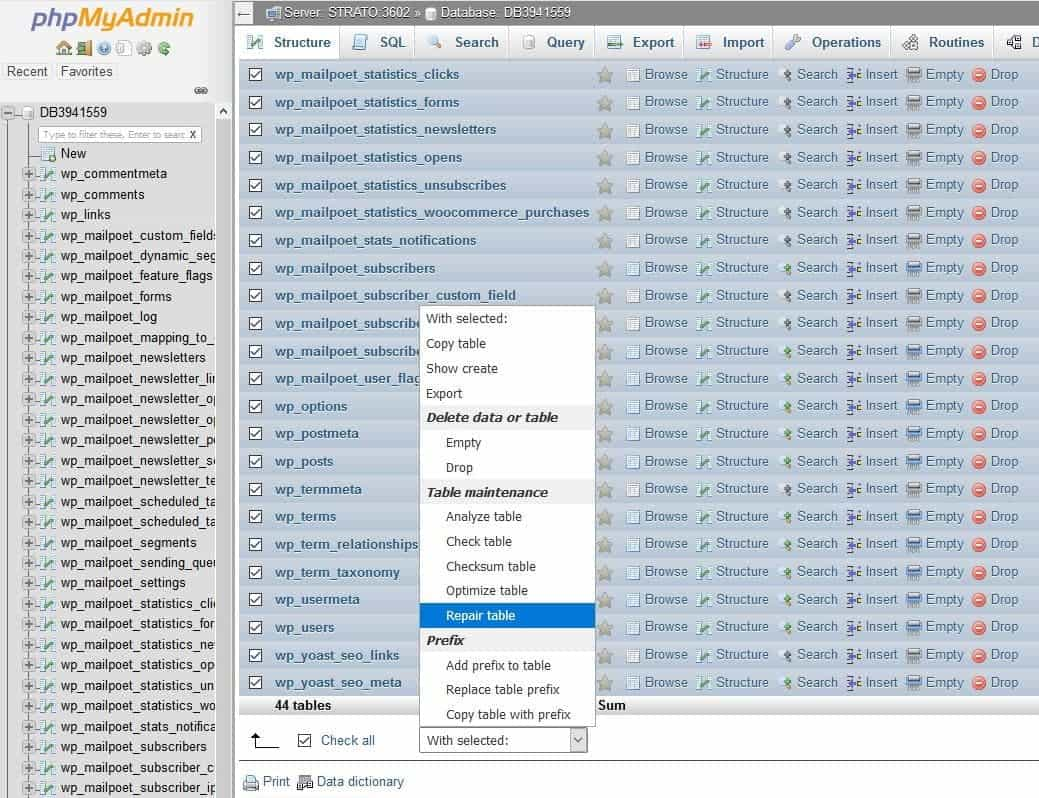 Repair WordPress databases with phpMyAdmin
---
Own WordPress database in the STRATO hosting package
comfortably create and manage
MySQL and phpMyAdmin are preinstalled and can be used immediately
Simply tidy up at any time to shorten loading times
Back up data yourself whenever you want