How does the ultimate real man dress?
Style guide for tall, slim men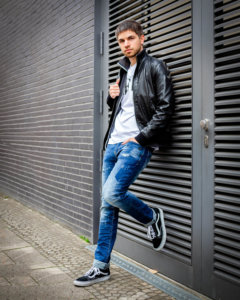 Outfit slim men
How do I dress favorably as a tall, slender man? That can be a real challenge! After all, you want the other person to perceive you as elegant and tall and not as skinny or even as a "beanpole". We've looked at this topic and put together a few tips that will help tall, slim men shine along their entire length.
The right cuts and colors
Break the body line
The general rule is: You should have yours Skilfully balance proportions! The width allows you to make up for what you have too much in length. However, you don't need wide shoulder pads for this. It is enough if the outfit interrupts the body line here and there - for example through different patterns, Layers or just a belt. Then the width is more staged and comes into focus. Especially in winter you can play very well with several layers of a shirt, a cardigan and a jacket. Patch pockets also work. The clothes should not be cut too wide - this only emphasizes the above-average height. Close-fitting clothing is more beneficial.
The role of colors and patterns
As already mentioned, different colors and patterns come in handy for you to break up the body length. Compared to a tone-on-tone outfit, this does not emphasize body size. Black is also rather counterproductive as it makes it look even slimmer. Vertical stripes should also be avoided as they only visually stretch the body. So: put on fine pattern or bright respectively Plain colors - the colors of your outfit should always be different from each other. And if you do want to wear stripes, go for striped tops such as sweaters or T-shirts.
The individual games
The pants
The same applies to trousers: it's better to do something figure-hugging than too far! A Slim fit model is ideal, for example. It is important to have a hip-hugging fit and a relaxed, not too tight cut. Subtle patterns, Corduroy pants, faded or destroyed jeans are perfect. Cuffs on the pant legs are great eye-catchers, especially if they are a little wider. They put the proportions in the limelight and visually shorten the legs a little. Another very useful tip: belt look particularly good on tall, slim men - especially if they are a different color from the rest of the outfit. However, the buckle should not be too huge, but rather contrast nicely with the rest.
No-Go's
You should avoid pinstripes - as already stated, this optical stretching is not beneficial for your body size. The length of the pant legs plays an enormous role. High water trousers that look less elegant and stylish are very counterproductive. Shorts should go at least below the knee.
The top
Dress favorably
Are shirts one of your ultimate favorite tops? Then make sure they fit well and are long enough. The rule of thumb is: If the shirt slips out of the side, it is too short. If it stays in the waistband but bulges, it's too loose. Shirts with breast pockets and possibly subtle shoulder flaps are very suitable for leisure time. For men with a long neck, shirts with an extra web height and two buttons on the collar are very practical. At the long torso a lot can be done with patterns: Checks, Rhombuses or other patterns make the chest appear fuller and look great.
With sweaters, knitted cuffs are the Insider tip: They make the waistband and sleeve ends look shorter. As for the position over the shirt or sweater, coats are very suitable for tall men. If they're at least knee-length or even calf-length, you've done everything right. Patch pockets are also chic details on coats that set great accents and visually add more volume to the body width.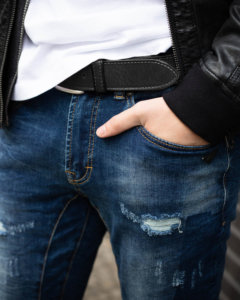 accessories
accessories
That belt for tall, slim men useful and stylish companion are, we had already taken up. Shoes also play a crucial role. Models with very wide, thick soles should not be chosen here, as they quickly look too bulky. Narrow shoes that make the big foot look more elegant are better. When it comes to scarves, thick woolen scarves are particularly useful in autumn or winter, as they look a little fluffy. Wide watches or even bracelets are very useful to reduce the length of the arms. Not only do they have a practical effect, they are also beautiful to look at. Accessories for men are generally indispensable - what do you think about that?