There are still independent cinemas
International - A visit at the time of Covid-19
We're celebrating the reopening of the cinema with a big bang. Not just made Thore Horch From International an extraordinary and long tour behind the scenes of the house, the impressions of which we reproduce in this report and underline with many exclusive pictures, but after more than 20 years we were able to close a large gap by receiving the approval to close the house ourselves for the first time taking photos.
After more than 20 years, the time has come: we have our first photo opportunity in the International and on this occasion we also get a detailed tour behind the scenes of one of the most traditional Berlin cinemas. Full of anticipation, we meet Thore Horch, who opens the doors to the house for us in the morning. Horch is primarily responsible for renting out events and organizing the premieres. In addition to the usual screenings, various festivals and special screenings take place in the International and of course the Berlinale and other major film premieres. In addition, the cinema is mainly booked by companies, be it for product presentations, meetings or filming.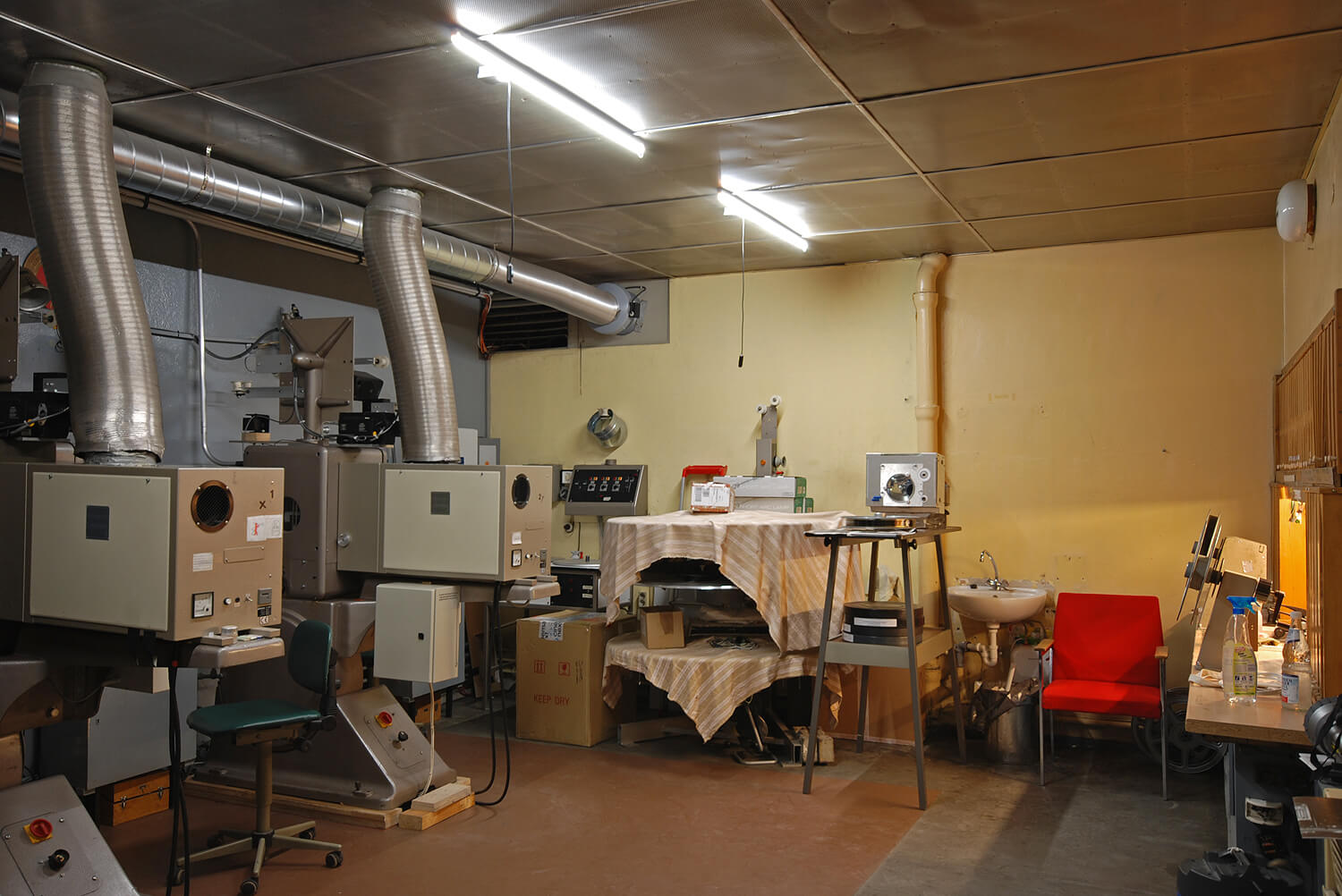 Projector room, May 2020 © kinokompendium
Horch is particularly pleased when the cinema itself becomes part of the film. He tells us about the shooting of Steven Spielberg's "Bridge of Spies", in which the cinema was relocated to the Kurfürstendamm due to the costly equipment. Horch had also been in charge of setting up the set since the early hours of the morning. For the film, the poster showcases were transformed into department store showcases and he put up the historical advertisements for "Spartacus" and "Eins, Zwei, Drei". Wrong subway entrances, stalls, artificial snow and vintage cars made the illusion perfect.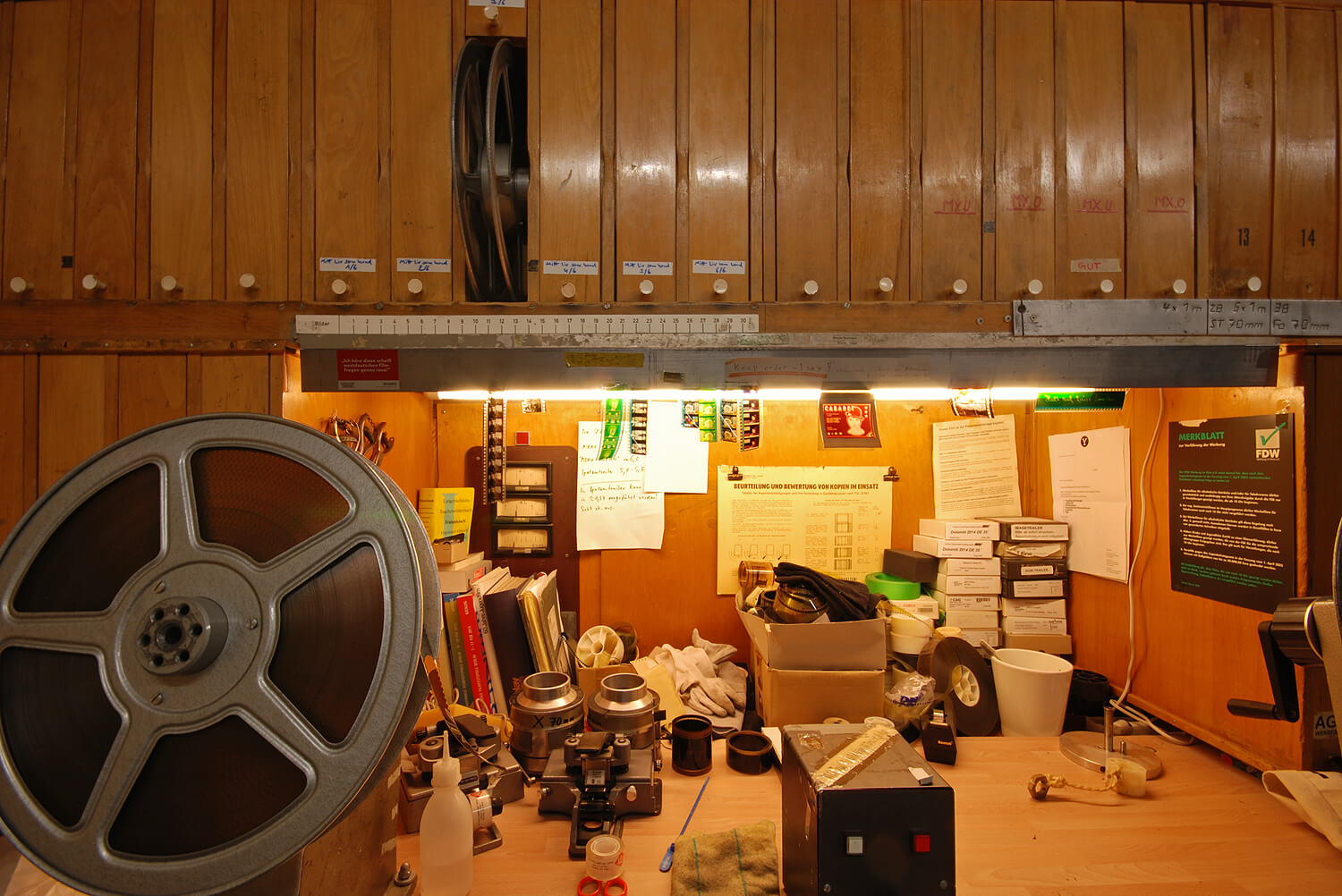 Projector room, May 2020 © kinokompendium
Horch begins his little tour behind the scenes of the house on the ground floor, where he shows us the former library room behind the back wall of the cloakroom. Even if it is now almost empty, with a little imagination you can very well imagine that it was used as an additional party location for a while.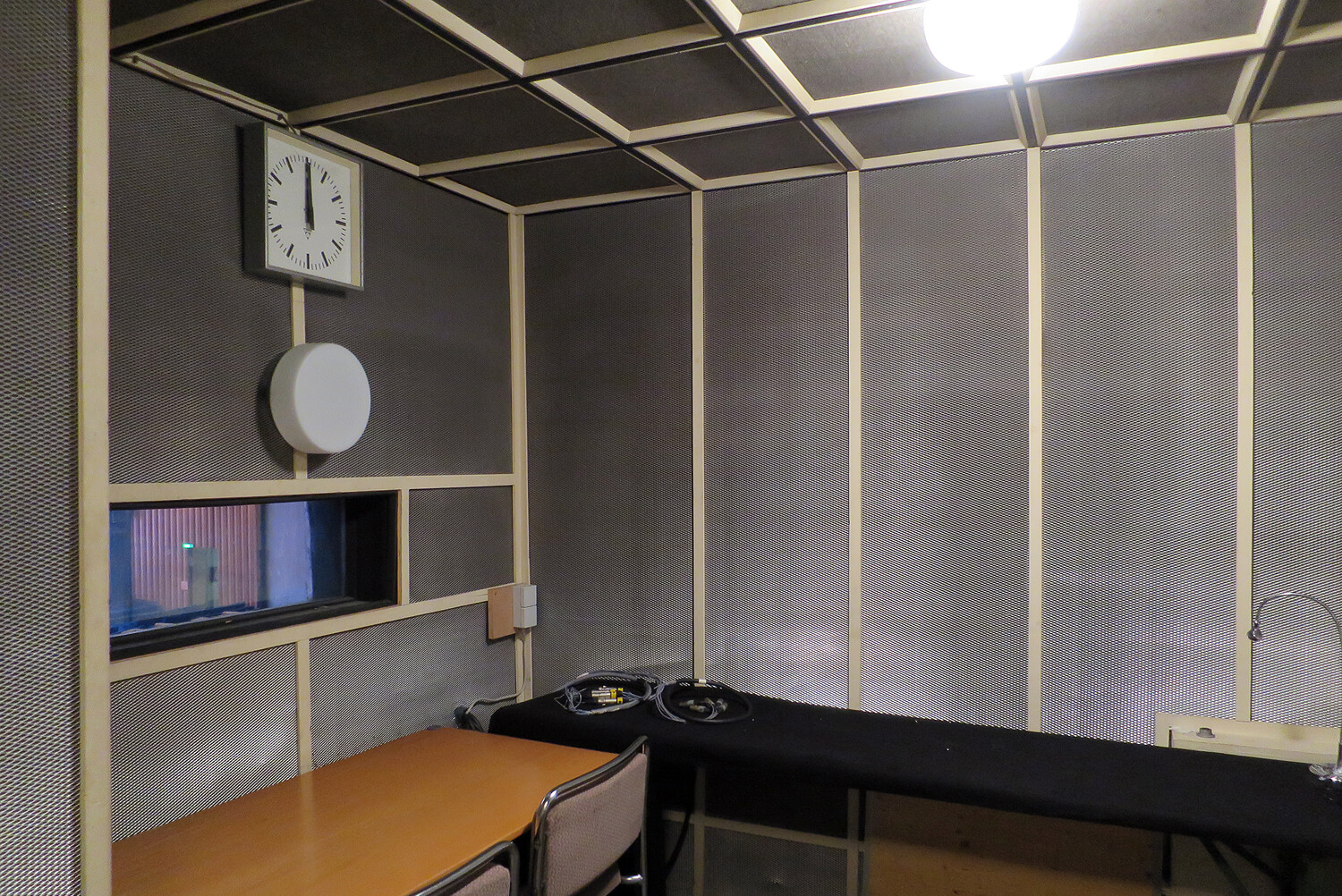 Honecker Lounge, May 2020 © kinokompendium
Then it goes into a wing of the upper foyer and we take a look into the so-called 'Honecker Lounge'. Despite the imposing name, this has little to do with Erich Honecker, but it was considered a representative reception area for important personalities from culture and politics. In principle, it is a windowless room along the east facade with armchairs, sofas and a small adjoining bar. This cabinet is used for possible expansion at special events, but is not accessible to the public during a normal cinema show.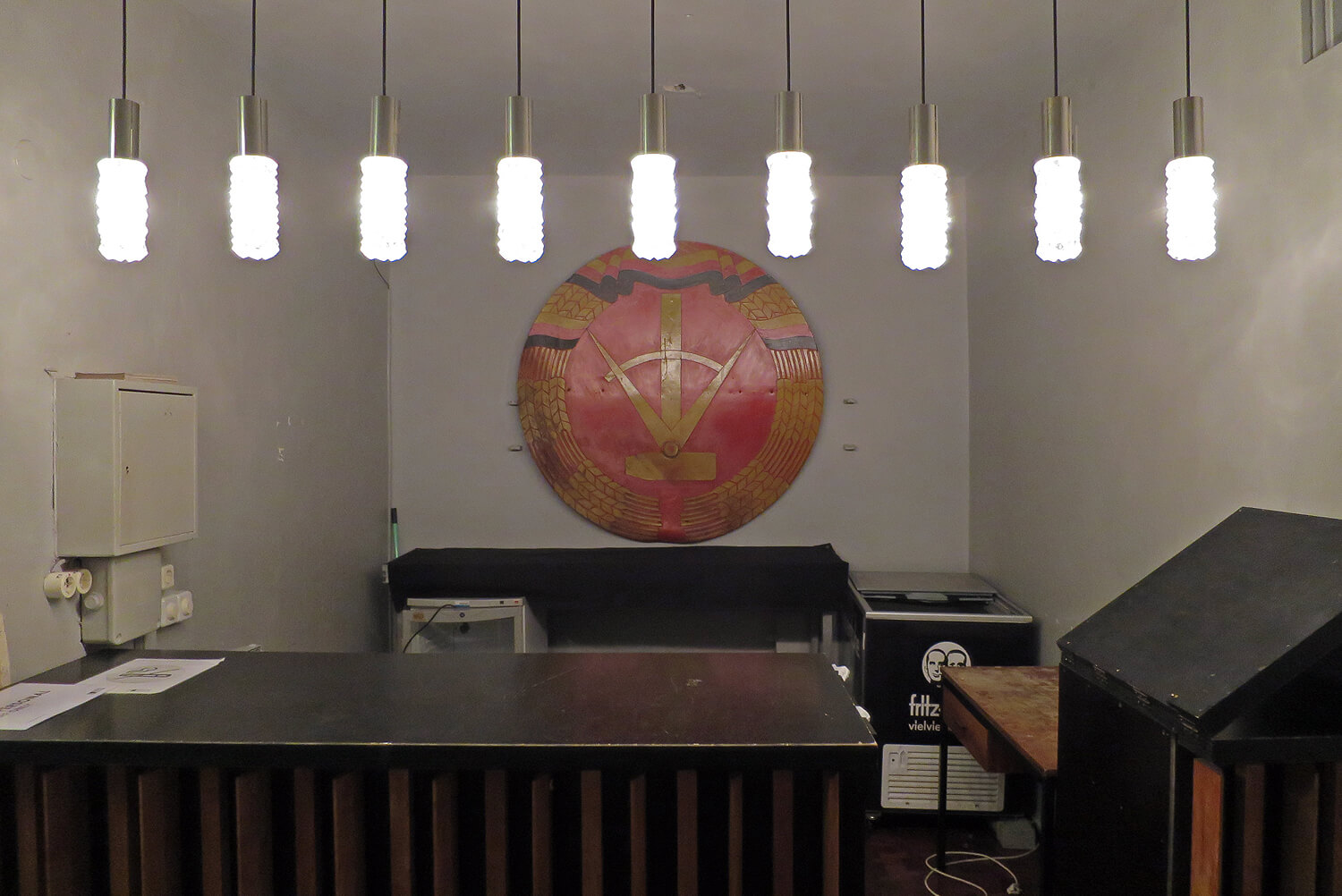 Honecker Lounge, May 2020 © kinokompendium
Next we are led through a side door of the hallway leading to the hall into one of several stairwells. After a short ascent, we reach the projector room, where you can immediately feel the touch of the house's 50-year history. Along the back wall there is a table integrated into the wall with special boxes for storing 35mm copies and work utensils from the time before digitization. Many details catch the eye, old film reels are lying around everywhere and the sticker "40 Years of the World Federation of Democratic Youth" from 1985 is still neatly stuck to a loudspeaker. Although the International is equipped with the latest technology, Horch explains, there is still the option of playing analog film rolls.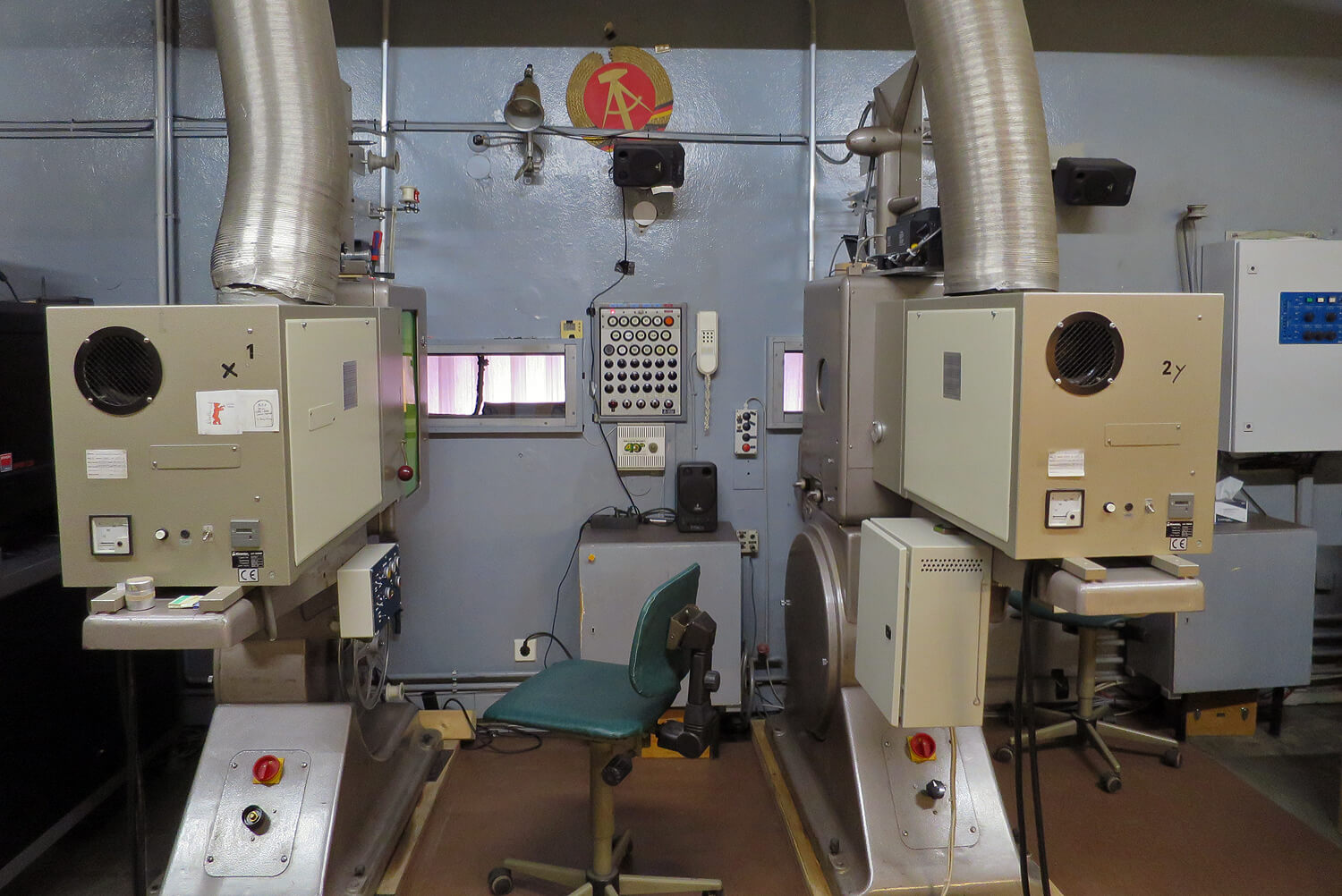 Projector room, May 2020 © kinokompendium
On the way back to the foyer, we stop at a chest-high metal door. Behind it is one of many "architect's graves", as Horch describes it. By this he means rooms and nooks and crannies that cannot be integrated into normal operations, but have to be used for other purposes somehow. We enter one of these "graves" and discover the huge archive of letters for the advertisement. Since the letters are required in different sizes, not only are the different standardized sizes neatly lined up on the floor, but in one corner there is a heap of letters from which the necessary emergency solutions, such as a W from two V's, can be tinkered.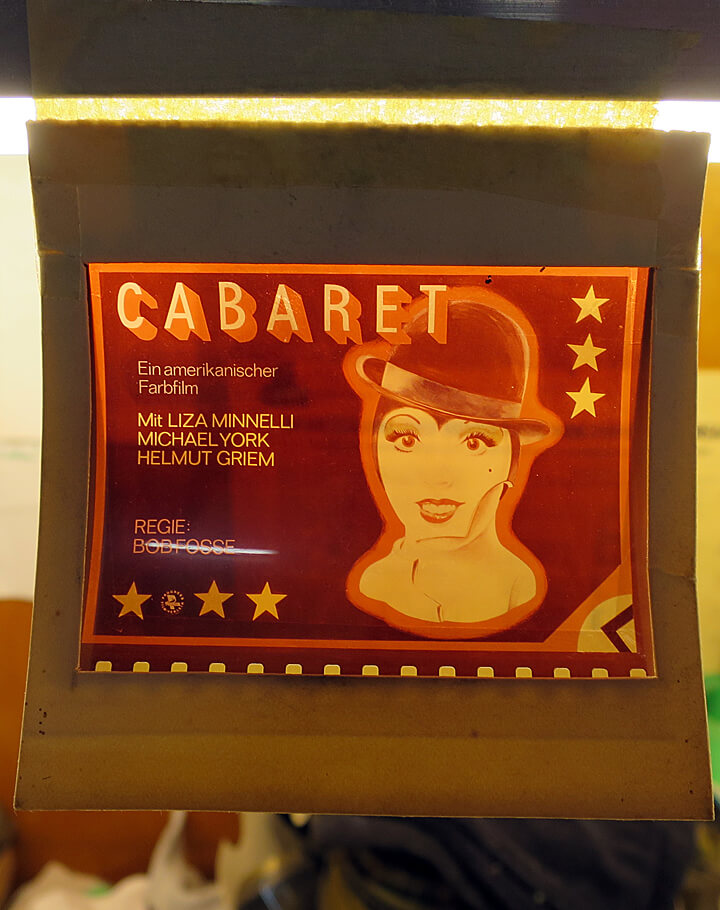 Letters Architectural Grave, May 2020 © kinokompendium
We quickly take a look into the former translation booth. Basically just a completely soundproofed little room with a view of the screen, but it made it possible to show foreign films that were not yet dubbed. From the hall you can see the booth to the right of the door at the height of the projection window.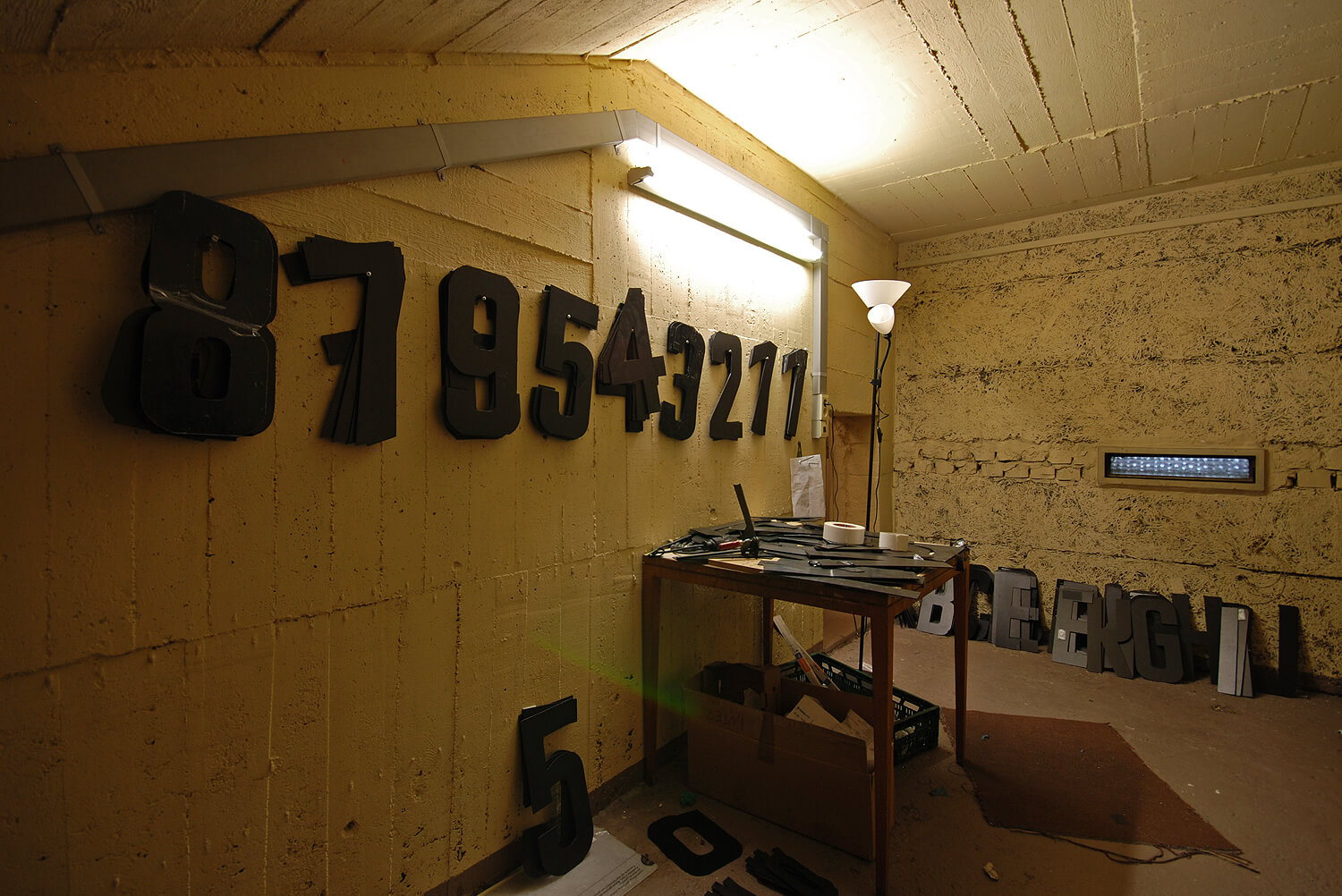 Translation booth, May 2020 © kinokompendium
The highlight of our tour is the beautiful hall with its classic wood paneling on the walls and the imposing cloud cover. We want to know whether the urban legend that Erich Honecker always sat in row 8 in 15th place is actually true. He was probably not here often, "but yes, that was the row of guests of honor," confirms Horch. This was because this series in particular was examined by an explosives squad prior to film premieres. After the new seating, however, the series of minutes no longer exists in this form.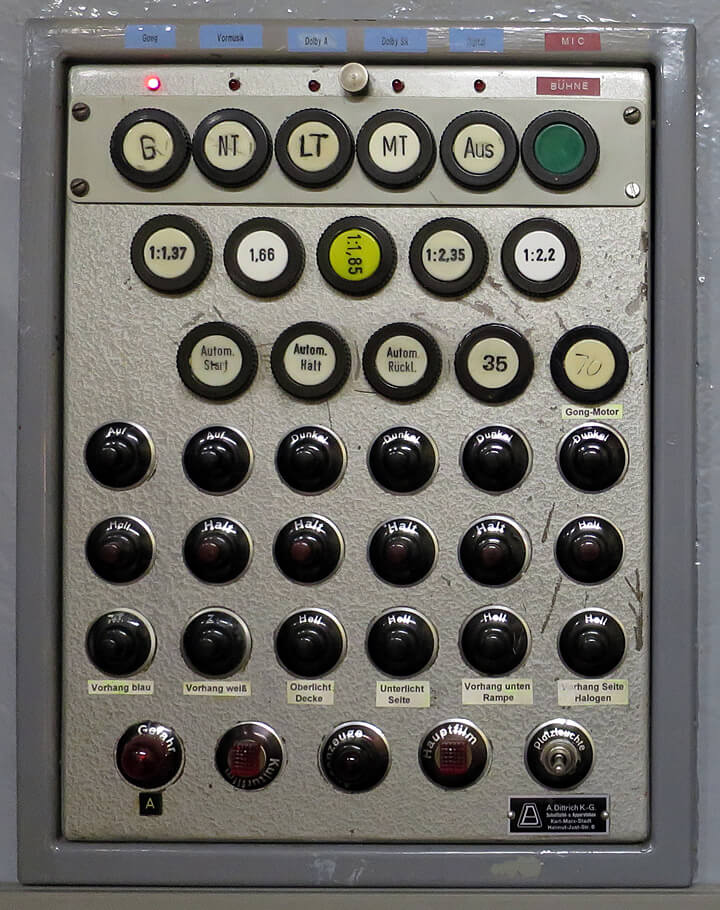 Advertising media for an American color film, May 2020 © kinokompendium
We step down a flight of stairs to the right of the screen, where there is an unspectacular changing room for guests. It's hard to imagine a Berlinale guest of honor in the inelegant room, but Horch says that the guests tend to stay in the upper foyer anyway and we too have to walk back there via a staircase. Horch tells us that it is possible to use various entrances and exits to reach almost every room in the building and at the same time leave out any desired room. This fact already helped a lot at the film premiere of "Rammstein in America" ​​in order to get the guests, past the fans, into the house undisturbed. This event in 2015 is one of Horch's personal highlights. In order to "make the sound for the screenings even fatter", additional loudspeakers were installed in the hall. After the actual premiere, there was even a demonstration for fans the following day. However, the band was still a little disappointed by the lack of oomph at the premiere and had even more amplifiers installed at their own expense. In the end, all the walls vibrated.
City Kino - A visit at the time of Covid-19
Anne Lakeberg vom City Kino tells about the special connection to our side, how it has been animating northern Wedding for 6 years and why it is looking forward to July 2nd.
How did you become a cinema operator in the first place? Was there before
own cinema experience from other companies or was it all a coincidence?
It must have been a mixture of both. It is of course "crazy" that I run a cinema. There was this love for the cinema, there was this preference for working in the cinema, but it had never occurred to me that that was the only job you did.
I worked in the cinema in Bielefeld for a long time during my studies and then when I came to Berlin in 2011 for the Yorck in the Friedrichshain film theater as a ticket taker and at the box office. I've always noticed that the cinema business suits me. I always liked the work, but also the colleagues who work in the cinema very much. It's such a definite blow.
Later I started at Neue Visionen Filmverleih in Berlin. That was very exciting and also good to understand how films get into the cinema in the first place. But I also noticed that I missed the cinema work because distribution is a very logistical job.
I then did the advanced training to become a film theater manager in Wuppertal as a distance learning course. There you learn all the commercial and organizational aspects of a cinema: How do you set up a cinema, how do you register it with the FFA and so on. And that's where I met my former colleague Wiebke Thomsen from Hanover (with whom I started City Kino), and she told her, "that Berlin is actually full and you can't really do anything there. But in Wedding, where I live, there is such a hole in the art house. " And Wiebke found what I was telling very exciting and she said "let's not just take a look at what's going on there." And then you come into play ...
Exactly. You are on the empty cinema hall through the cinema compendium
caught on. Was that love at first sight?
We went looking for it full of enthusiasm and at some point I came across your Kinokompendium website and was really thrilled. Especially because I thought it was so great to see where there were cinemas and that you left all the cinemas on the side that were closed or demolished. And so we hoped to find some small cinema that was still empty. And then we came across the City Kino in the 'Center Français' virtually. And the first feeling I had was a great respect for the size of the room. I saw 220 seats and thought like "oh, that's pretty big, if you just want to try to do a bit of cinema".
Wiebke came from Hanover and we just "secretly" went to the cinema without announcing ourselves. On the showcase on Müllerstrasse there was a notice that the hall will be renovated so that it will be available for all kinds of events and rentals. We thought that was really good and thought maybe there would be a small space for us to go to the cinema every other weekend. In the inner courtyard you could see the whole foyer through the glass door, which was actually also a construction site. Nevertheless, I noticed the glamor of the entrance. But we couldn't see the hall because it was closed.
The great coincidence in this story was that Florian Fangmann, the director of the 'Center Français', went to elementary school with Wiebke in Oldenburg and so everything went better because the personal connection was there. And then we looked at the hall and we were very impressed. Love at first sight is saying too much, because it inspired me a lot of respect with the size, the high ceilings and the stage.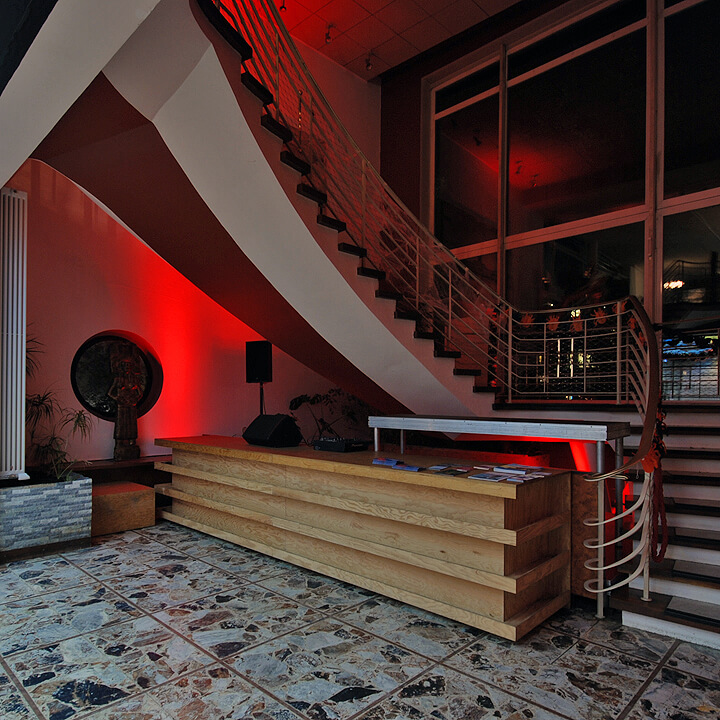 Cinema building and ceiling detail in the entrance, October 2015 © kinokompendium
The building complex was built by the French allies?
Is that a fascinating story?
It is definitely the story that fascinates. I personally like historical cinemas. That one can assume what the cinema once stood for with the contrast of what we are doing today. So an alternative art house cinema in this glamorous house. In fact, there are some labels on counters and signs that are in French, including in the changing rooms behind the hall. What few people know, it was built as an event hall and cinema, so that the screen could be raised and lowered, and the stage was also used for theater events.
It must have been a prestige object for the French. There are outstanding elements that were built in back then. Under the stairs in the foyer there is a turquoise-colored mosaic basin in which fish swam back then. Then there is this statue behind the round stained glass window on the first floor.
You can see the legacy in these things and you can loosely imagine how impressive it must have been when the hall opened in the late 1950s and early 1960s. Unfortunately, I don't know any photos from that time and I wish there was a historian who would feel like doing some real research.
Do you sometimes wish the building was more central?
It is quite a long way off and is located in the classic residential area. And there are hardly any cafes or bars up there. That is a big difference to a cinema in Kreuzberg. But my impression is that that is also changing and Wedding is growing. More and more young people are moving to Leopoldplatz and Seestrasse, and new restaurants and cafés are opening up. On the other hand, I personally find the location very special because you slow down here because of the environment. I feel like people appreciate that too. And finally, at the end of the day, the visitor gets a visit to the cinema in the multi-faceted and spacious hall with a hopefully warm and cozy atmosphere that we create. But the way is worth it.

And if the cinema had not been in this corner, but somewhere further central, then we would not have been the first to discover and revive the cinema.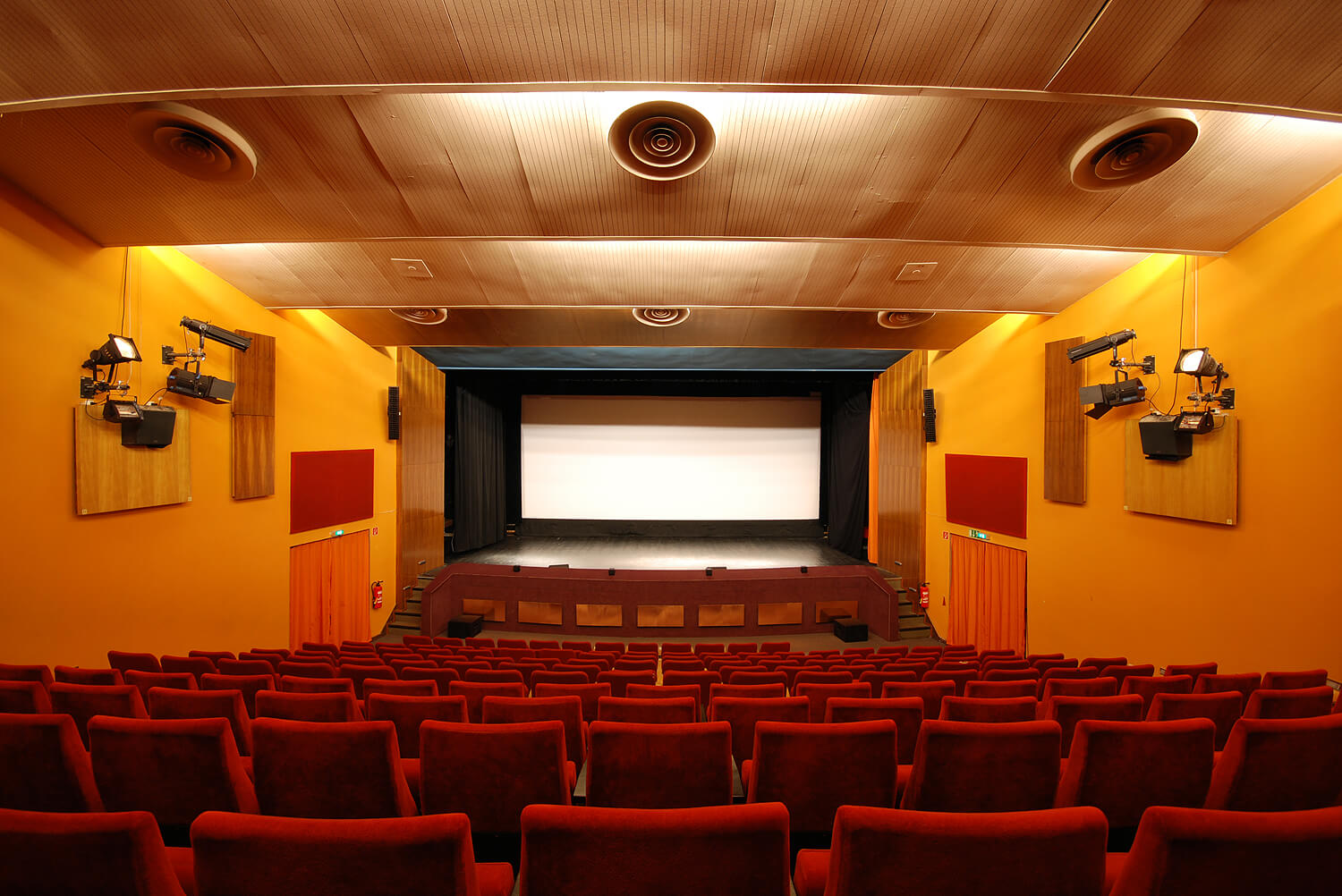 Hall, October 2015 © kinokompendium
Is there a particularly nice experience or an everyday experience what one
as a cinema operator who is always motivated and enthusiastic?
A big highlight was Michael Ballhaus's visit to the Berlinale Hommage 2016, shortly before he died. I found him so impressive because he was such a pleasant and humble person for what he has achieved in his life. First of all, you have to become so famous as a cameraman.
But there are also the little experiences. Especially in the Corona time, it is the emails that come from visitors who tell us that they miss our cinema. Or the reactions when you post on Facebook that you open again.
Basically presenting a film that you yourself are convinced and enthusiastic about and when the audience comes along and likes the film, that keeps you going. I also work normal shifts and there we have our regular guests with whom we also talk. There was a couple who walked every Sunday regardless of the film. To know that they trust the selection, that also touched me. We want to be a place for the neighborhood where all visitors feel at home.
How do you look forward to July 2nd?
I'm just incredibly happy that people are coming back, opening the hall, starting the projector and the show. Of course I stand at the box office myself to see how everything works with the hygiene measures, but also to chat with one or the other guest to find out how he or she has survived the time. But I also have to admit that I'm a little afraid that nobody will come. It is July and a difficult start because we are there in midsummer. Of course, I hope that people come and they feel comfortable with us and that we implement hygiene measures so that everyone feels that they are in good hands.
As a second screening, I programmed the film Wedding from 1989, the Mauer film that was shot in Wedding and which has found a permanent place here with us. I have decided to offer this performance for free. Actually, I'm not in favor of it at all, because you have to earn money, but it was important to me at this point to give the audience such a thank you. I would like to thank you for all the support during the time, the many vouchers that were bought and for the donations that were received.
I'm also looking forward to a few special events that I have planned for July. I also had to do a program that I am enthusiastic about and that is a little eclectic and very diverse. I have a small crisis series with zombie films. There is also the German trash pearl 'The Hamburg Disease', which I recently discovered, in the presence of the director. So I'm looking forward to things like that and, as I said, I hope that a few people will come and then we'll see.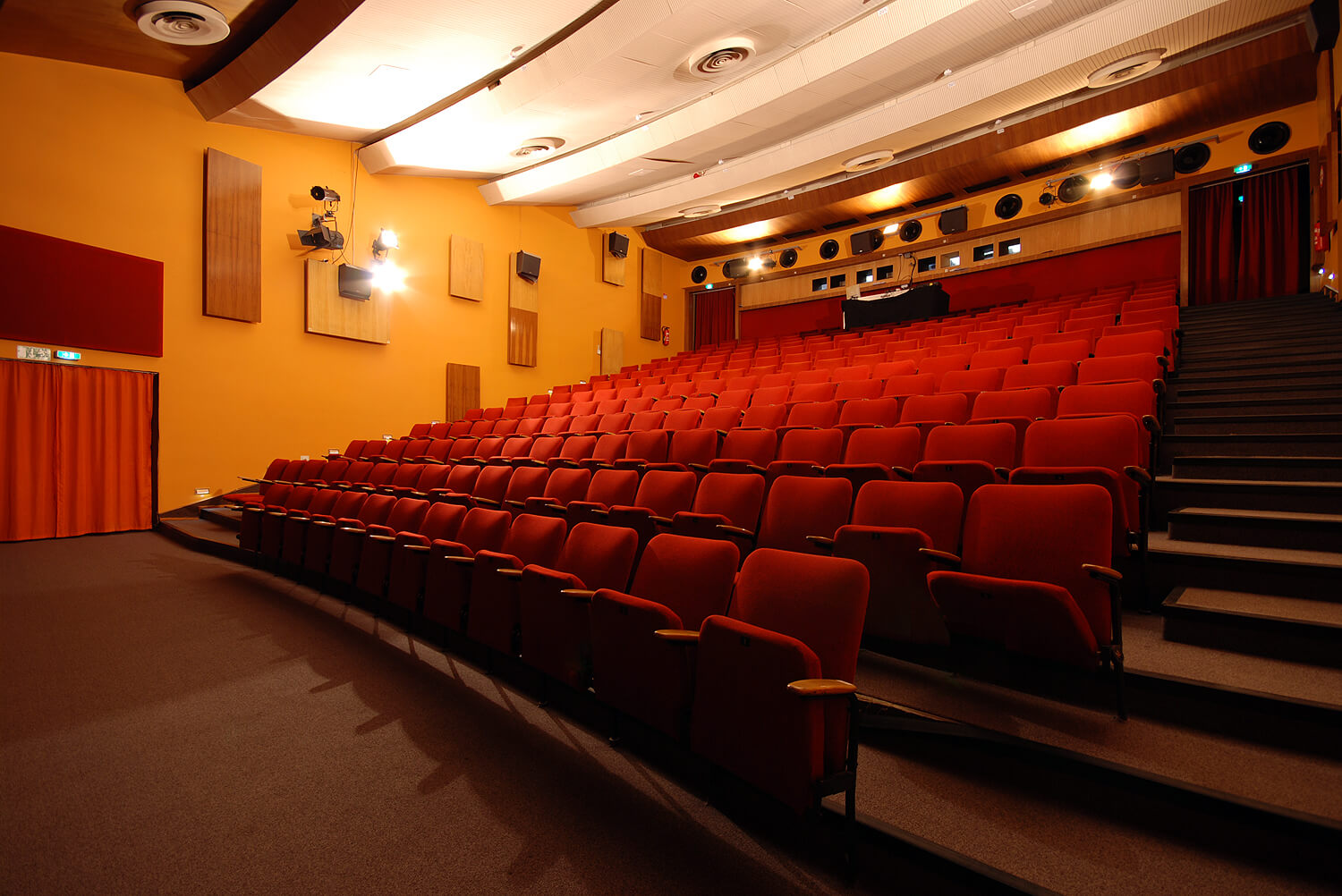 Hall, October 2015 © kinokompendium
fsk - A visit at the time of Covid-19
Christian Suhren In an exclusive interview, vom fsk traces the development from the off-off cinema on Wiener Straße to the now well-known arthouse cinema with two halls on Oranienplatz. Tells what the changes will be after the Corona break and reveals what the abbreviation fsk really means.
What was the trigger to found a cinema?
When we started with the 'fsk' in Wiener Straße in 1988, all the operators were already out and about in film clubs or voluntary cinemas. For example in the rainbow cinema or in the OmU e.V. in Schöneberg. And then there was the consideration of whether it could not be put on an economic basis. The trigger to go to the cinema at all was the idea of ​​the counter-public. Film wasn't as present as it is now. There was no internet and only a few video stores that had a reasonable selection. Accordingly, with our own cinema, we wanted to show things that otherwise couldn't be seen.
What kind of premises did you use? Was that a cinema before?
At that time, we took over the former pub called 'Living Room' at Wiener Straße 20. The idea at the time was the expected bad cinema business, because we wanted to show very special films, to cushion them by having a well-running bar up front. There were loads of pubs next door that were doing incredibly well. Unfortunately, that didn't work out because we weren't that good as pubs. But the cinema went better than we thought. So that the cinema actually promoted the pub and not the other way around, as originally thought.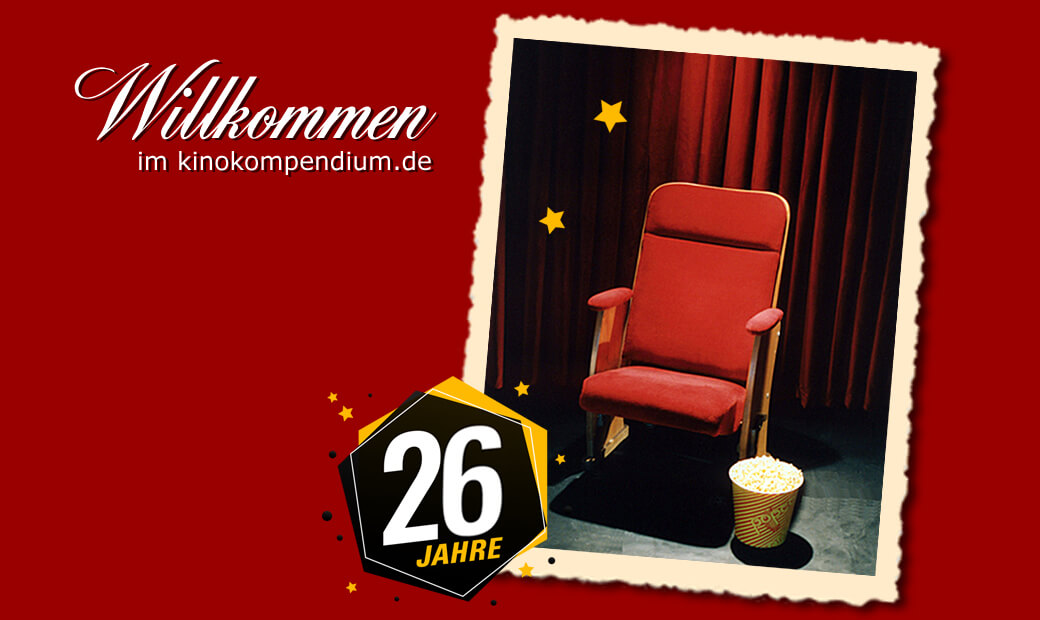 fsk at Oranienplatz & Harmonium in Hall 2, 2014 & 2015 © kinokompendium
What focus did the fsk set in the program at that time?
Was that called the off-off cinema?
That was actually called off-off cinema. Off cinemas at that time were cinemas like Yorck, Emergency Exit or Filmkunst 66, which were already showing premieres. At first we were more in the repertoire program. Some have put together thematic series or made statements on current events by film. But it happened very quickly that after just a few years we had premieres. Including films from the forum (International Forum of Young Cinema) or the loan from the Friends of the Deutsche Kinemathek. This is how other rental companies became aware of us. So away from the pure repertoire.
In addition to the well-chosen art house program, you are at some point
gone a step further. Become a film distributor in our own Periphery
selected films also brought to the cinema. How did that happen?
The rental company more or less established itself. At that time we tried to play several films from festivals that we found very good and that was very time-consuming. You always had to negotiate for a long time with world sales and get a copy, either with English subtitles for festivals or something with German subtitles from Switzerland, which then cost extra. And we did the advertising and press work ourselves. A huge effort for a film that you then played for two weeks. So we founded the rental company to be able to pass on this work and the effort. It was much easier for the world sales team, they knew that, because it was then about normal rental negotiations. That's how it turned out.
It has become a bit more difficult lately because there are a lot of rentals due to digitization. It's easier to get a movie out and that's why there are so many theatrical releases. At first the cinemas were really excited that we existed - today it's just another film.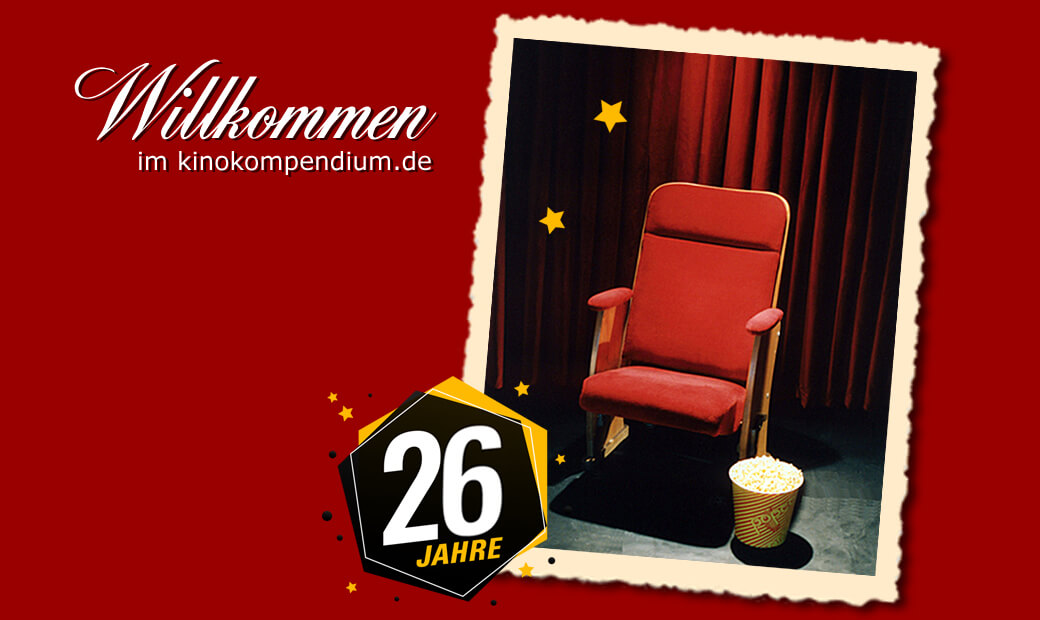 fsk at Oranienplatz, hall 2 without aircraft seats, April 2015 © kinokompendium
With the move to Oranienplatz in 1994 you have two brand new cinemas
based. What do you still love about this cinema?
When we moved to Oranienplatz, we were first rid of the pub. That was really a big relief because we really weren't pub people. With two halls, we can make programs more flexible and let feature films run for longer or just a week in the cinema. That worked much better and also meant that we all receive a salary at a modest level, which has not yet been the case in Wiener Strasse. The nice thing is that we still do the program we do.
In addition to the small fountain in room 1, there is another one
A special feature that hardly any other cinema has?
I always find the fountain a bit weak as our unique selling point. I like it very much and people love it too, but actually the main thing is what we do with the program. That we offer it in a cinema where you can watch the films well. That is much more important than the gimmicks around it.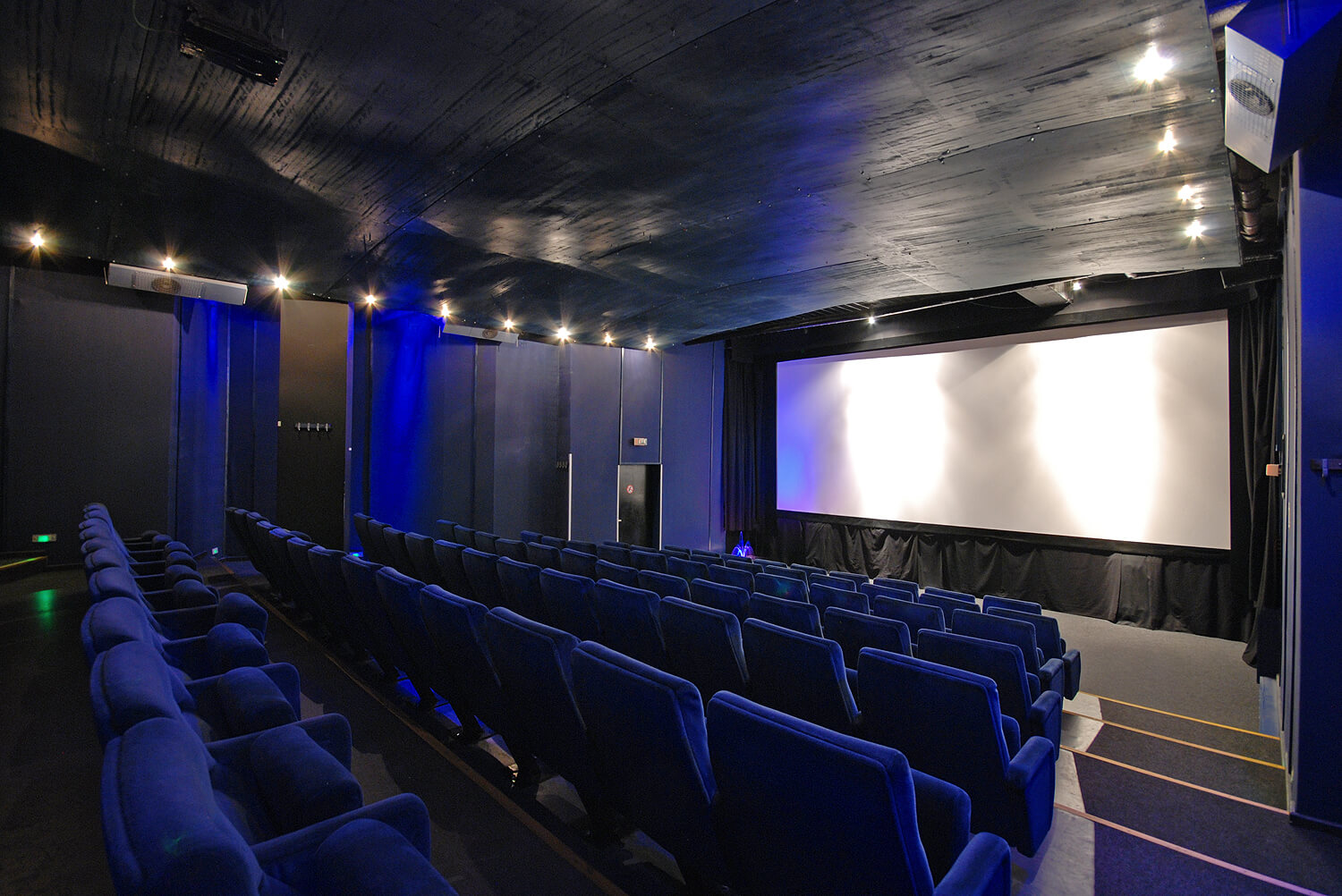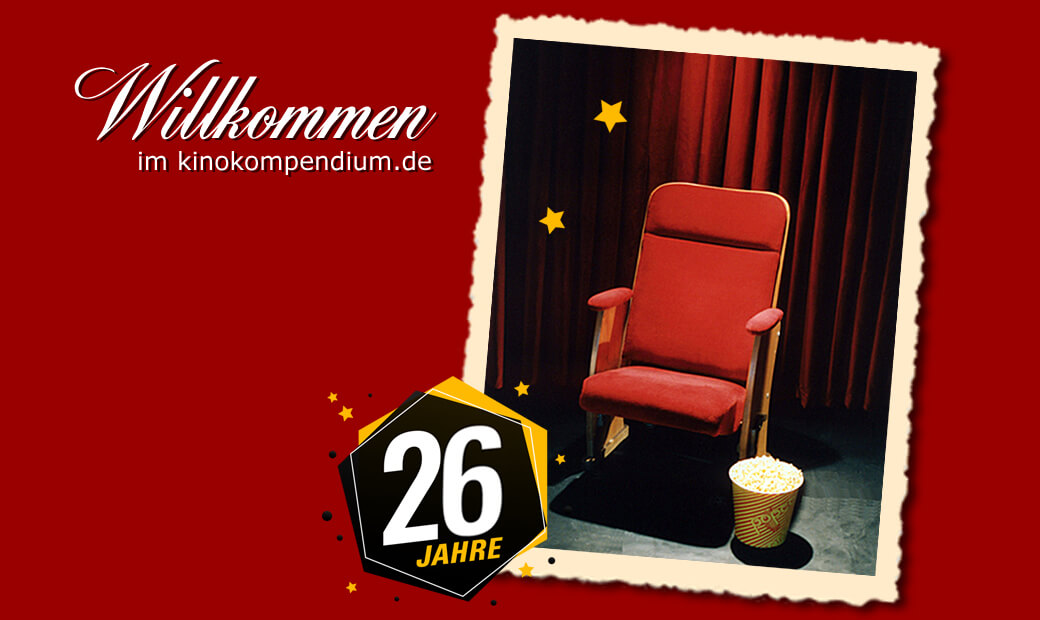 Brunen in room 1 & the old card system, November 2007 © kinokompendium
How are you preparing for the reopening day?
Are you happy, even if there are still some restrictions?
We are happy that we can get started again and do the program. Whereby the time when the cinema wasn't open also had something relaxing. That was a good time to experience that when you weren't doing a movie at all, but taking care of other things.
The reopening is of course unpredictable whether people want to go back to the cinema as soon as possible. It's summer and vacation then. We are really curious how it all goes. We have renovated a bit and are looking a little nicer. Unfortunately, we also have to say goodbye to the role cards because of the hygiene measures and now have an online ticketing system with printed receipts. Everything is very exciting and new. Let's see how it works and how it works.
We once read that the fsk gets its name from the 'airplane seat cinema'
has, but nobody wanted to confirm that to us at the time.
'Flugzeugsesselkino' is right for now. In Wiener Strasse and initially also in Kino 2 on Oranienplatz, we did indeed have Lufthansa aircraft seats. We changed that because the airplane seats don't last as long as real cinema seats. The name has remained, of course. As a collective enterprise, we naturally find the often suspected association with voluntary self-regulation in the cinema to be charming, because we are also committed to voluntary self-regulation.
Central, Moviemento & Toni - A visit at the time of Covid-19
The Corona closing time is used for renovation work in Central, the cinema founded after the fall of the Wall in the center of Berlin. In Hall 2, not only are new carpets laid and new chairs installed, but the audience can also look forward to a new screen and loudspeakers at the reopening. The operator Iris Praefke Not only has headed Central since 2013, but also Berlin's oldest cinema, Moviemento, since 2007 and the Weißenseer Kiez-Kino Toni for two years, which was privately run in the former GDR until 1979. While construction work continues in the background, Ms. Praefke extends her break to give us a short interview.
You run three houses for very different Berliners
Cinema stories stand. How does it make itself noticeable?
Iris Praefke: Toni is much more of a neighborhood cinema than Moviemento or Central. Many festivals and special screenings run in Moviemento, which makes it more of a cinema for the whole city. It is simply nice to have conversations in the foyer after an event and to continue talking to the guests. At Central we play everything original with subtitles and therefore the audience is more international in the sense of tourists. We show children's programs in all three cinemas, but there aren't that many children in Mitte. On the other hand, there are an incredible number of children living with Toni and that is noticeable in the program. A lot of children even come there to watch the film alone - I've never come across that at Central.
So you have a strong focus on children's programs?
Iris Praefke: The daycare children are actually always enthusiastic. But I am particularly happy when school classes come, in which some young people are actually not in the mood to watch this "stupid film" and then the film takes them with them and inspires them. You realize: Watching a film is one thing, but when you watch it in the cinema in a darkened room with other people, it's a completely different experience than being alone at home in front of the computer. That's why we do so much children's cinema. And I've often seen the children come back to us later as visitors.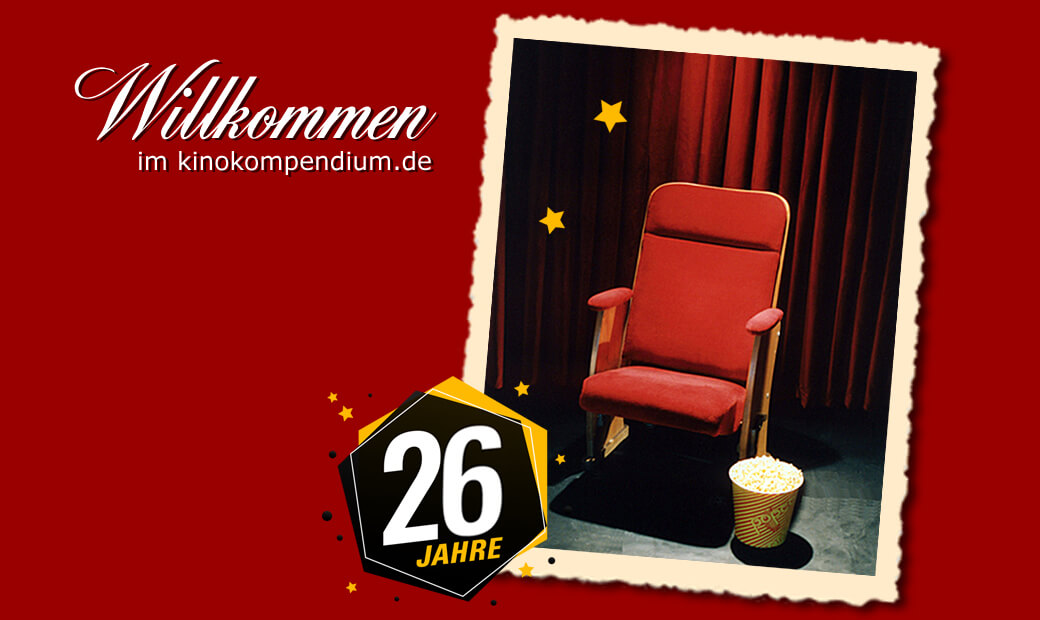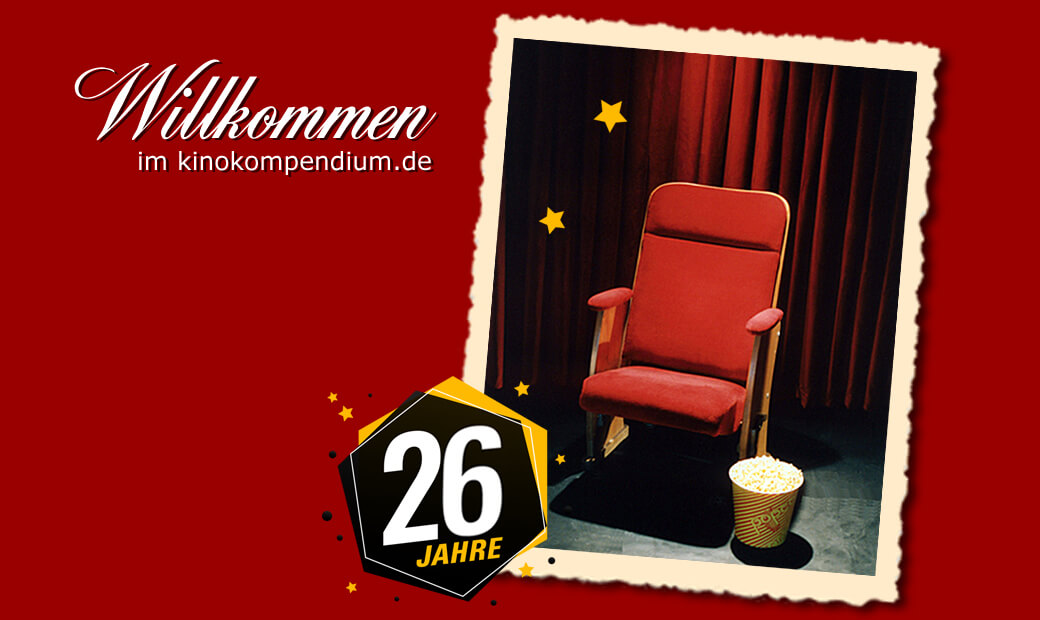 Posters and coasters: Finds in Moviemento, August 2010 © kinokompendium
How did you get into Moviemento back then?
Iris Praefke: At the time, I was still working at the Nickelodeon cinema, which unfortunately had to close. I really enjoyed doing that, but it was very small with only one hall and few seats. Then there was the phase when I thought that I would have to look for a "real job". I wanted to continue working in the cinema, but just with the Nickelodeon it wouldn't have worked. It was precisely at this time that the previous operator of the Moviemento offered the cinema Wulf Sörgel and Torsten Frehse from Neue Visionen, and they still needed someone to really do it. When I asked: "When does it start?", Wulf said: "Next week!". So it all happened pretty quickly.
What is special about the Moviemento for you?
Iris Praefke: I like that you can walk in circles almost once and pass all the halls. It's very cozy and manageable. The previous operator very cleverly expanded everything from one to three halls. The distances are very short and you can get anywhere easily, so you have a great overview. From the commute to work, you could easily throw the cinema on your own. Somehow there always has to be something from home. However, one thing has to be said: the reason why the Moviemento still exists is its location on the first floor. Otherwise it would have become a supermarket long ago.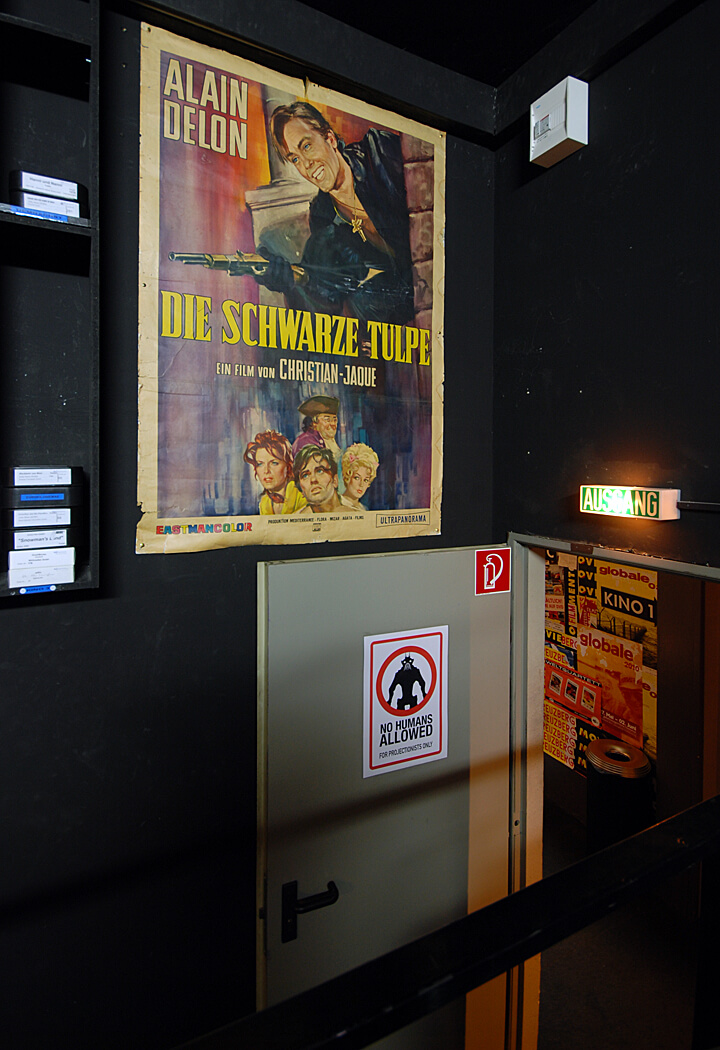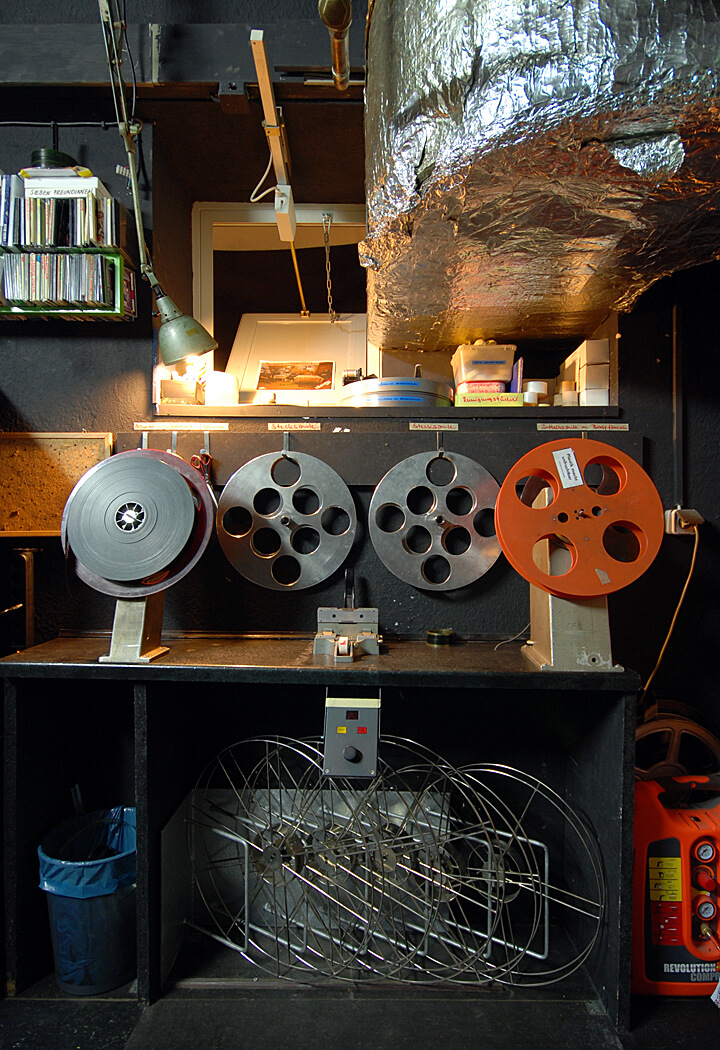 Projector room details Moviemento, September 2010 © kinokompendium
What do you particularly like about Toni?
Iris Praefke: We have a couple of special events there that are really unique in Berlin. For example, we have the ND Film Club - a monthly event at which DEFA films are shown followed by in-depth discussion. Until recently we had the series "Working Worlds of the GDR", these are things that you normally never see. In addition, the cinema is still from the silent film era and this makes it a large hall with an insanely large screen for the format 1: 1.37. It's cool, of course, if you can show those old films in that exact format.
Together with other art house cinemas, you have the crowdfunding
Campaign to be continued follows started. How did the collaboration go?
with the other cinemas?
Iris Praefke: The cinema operators know each other, e.g. through meetings at industry events, but we have never had as much contact with each other as we do now. The joint campaign, Continuation Follows, strengthens cohesion. It's a very nice feeling. Not everyone fights for themselves and sees the others as competition. I believe that something of this togetherness will remain for the future. In Berlin we simply have a unique cinema landscape with a very wide range - from mainstream to subculture.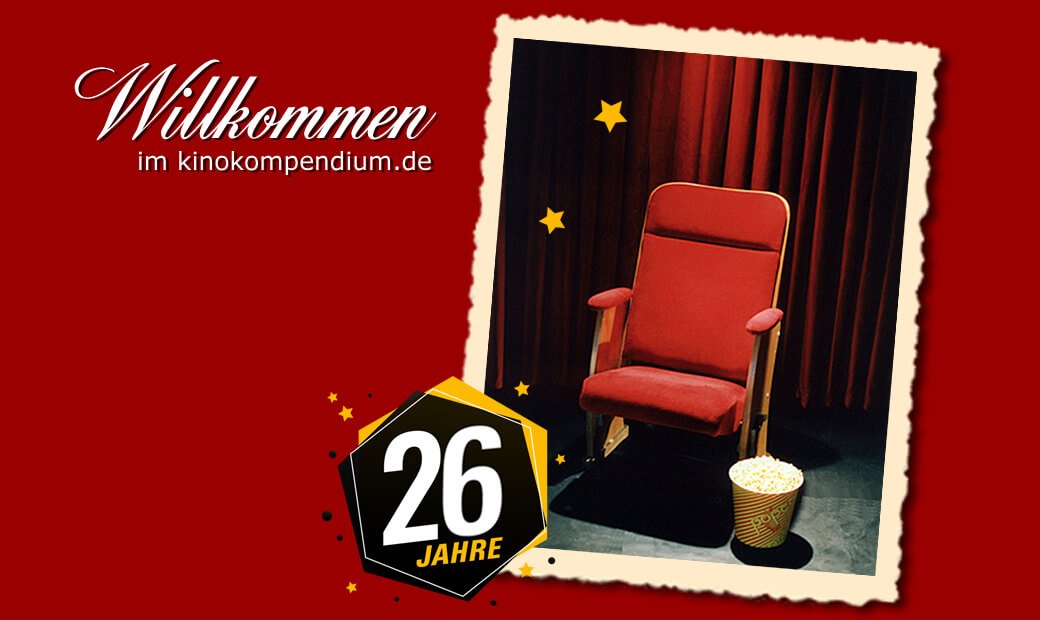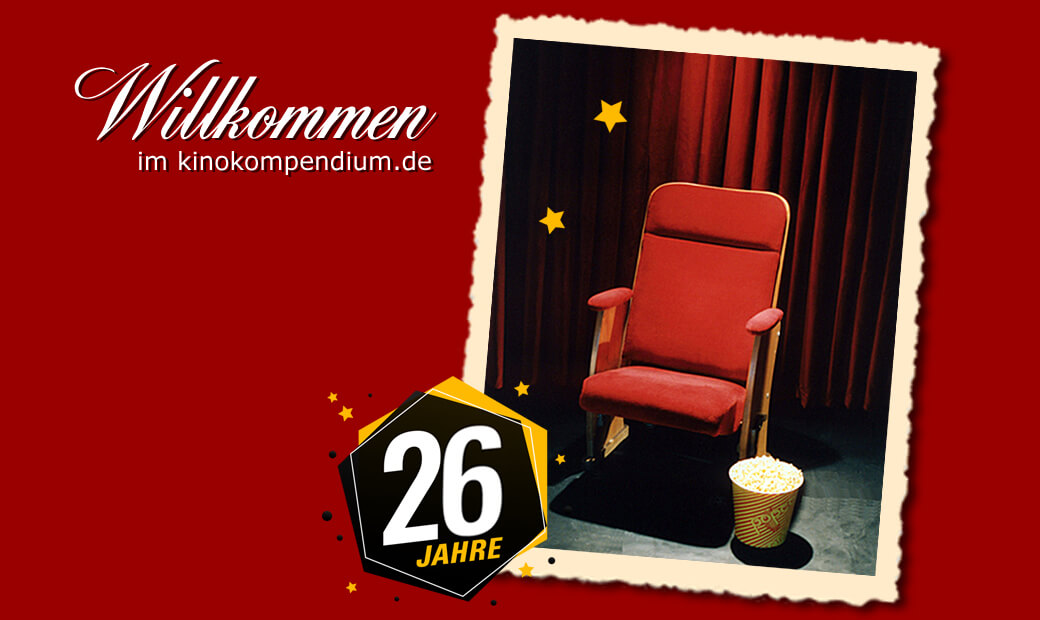 Sneak Peak Central Room 1 - new upholstery, May 2020 © kinokompendium
Are you looking forward to the visitors again?
Iris Praefke: You don't really have to answer that question. Naturally! It was really strange the first few days, because we're never actually closed. We are open at Christmas and also on New Year's Eve and January 1st - actually always. If you suddenly sit in the cinema foyer and it is 8 p.m. and no one is there, then that is a super strange feeling. I really miss the fact that people stand in the foyer and talk or maybe ask a very strange question. I miss that whole interaction with the audience. Some people have also written to us about how much they miss us. That is great and we were very happy about every single message.
Passage Kino - A visit at the time of Covid-19
On the occasion of new recordings in the Passage Kino, we conducted an interview with Gerd Müller-Ehwho has been director of the cinema since September 1989, i.e. from the first day of its reopening by the Yorck Kinogruppe.
You have been running the passage since it reopened in 1989. How did it then
everything started?
Gerd Müller-Eh: We opened the cinema with 'Indiana Jones and the Last Crusade'. That was the time when the premieres of the films were actually only shown on Kurfürstendamm, so it was a big risk to build a cinema here in Neukölln. We had planned to play mostly the big blockbusters, but we didn't know whether we would even get to the films. Due to Indiana Jones, however, the house was so packed that all distributors immediately asked if we would play their films. That was a novelty at the time and basically the starting signal for the premieres not only being played on Ku'damm, but also being able to go to the districts.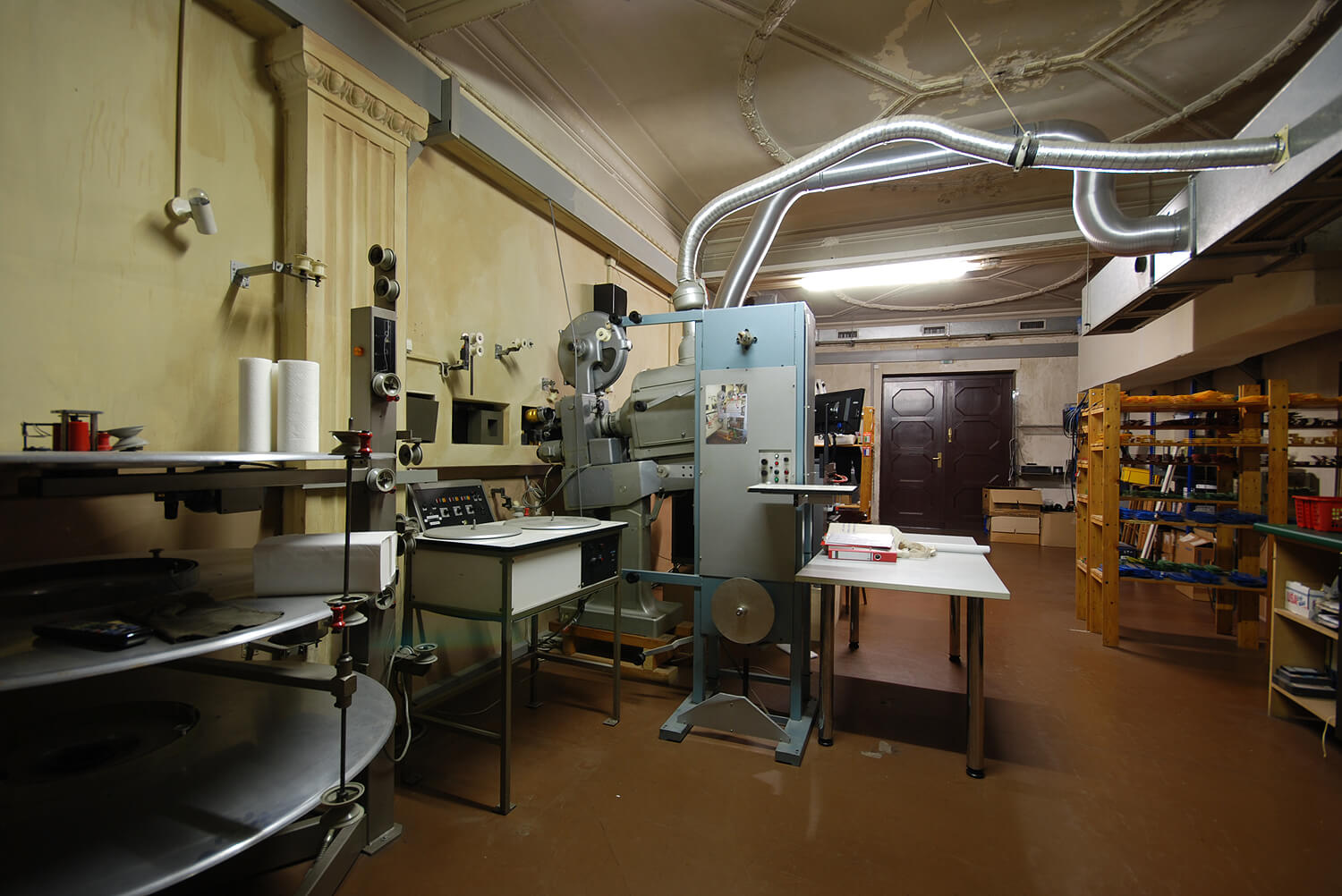 Projector room of hall 1, May 2020 © kinokompendium
What fascinated you about the rediscovery of cinema at that time
especially about the building?
Gerd Müller-Eh: The cinema opened in 1908, but at the time it was rediscovered it was just a furniture store. The house owner - incidentally the same as from Babylon (Kreuzberg) - is very culturally affine and had the idea to turn the building into a culture house. Together with the Neukölln Opera, he wanted to generate a cultural center.
We then restored the house in accordance with all the rules of monument preservation. You can see that particularly well in the stairwell. The dark brown wood paneling are traces of history, even if it wasn't there in its original state. This also applies to the colors of the floor and walls in the foyer. The most expensive problem in the large hall 1 was the sound insulation to the Neukölln Opera, as the ceiling had to remain true to the original.
Is there a structural feature in the cinema that is hardly one
Viewer perceives?
Gerd Müller-Eh: It is a pity that there is a tier in Hall 1, but we were not allowed to operate it because the parapet height was not high enough. We had to completely change our minds and then separated the tier and installed the projector room there. We installed a mirror on the back of the tier so that you can get an architectural impression of how big the hall was actually intended.
There is something else that is interesting: in 1908 the hall was designed as a theater, which is why there is also a full stage. Most of them do not know that the screen in room 1 can be pushed back on rails.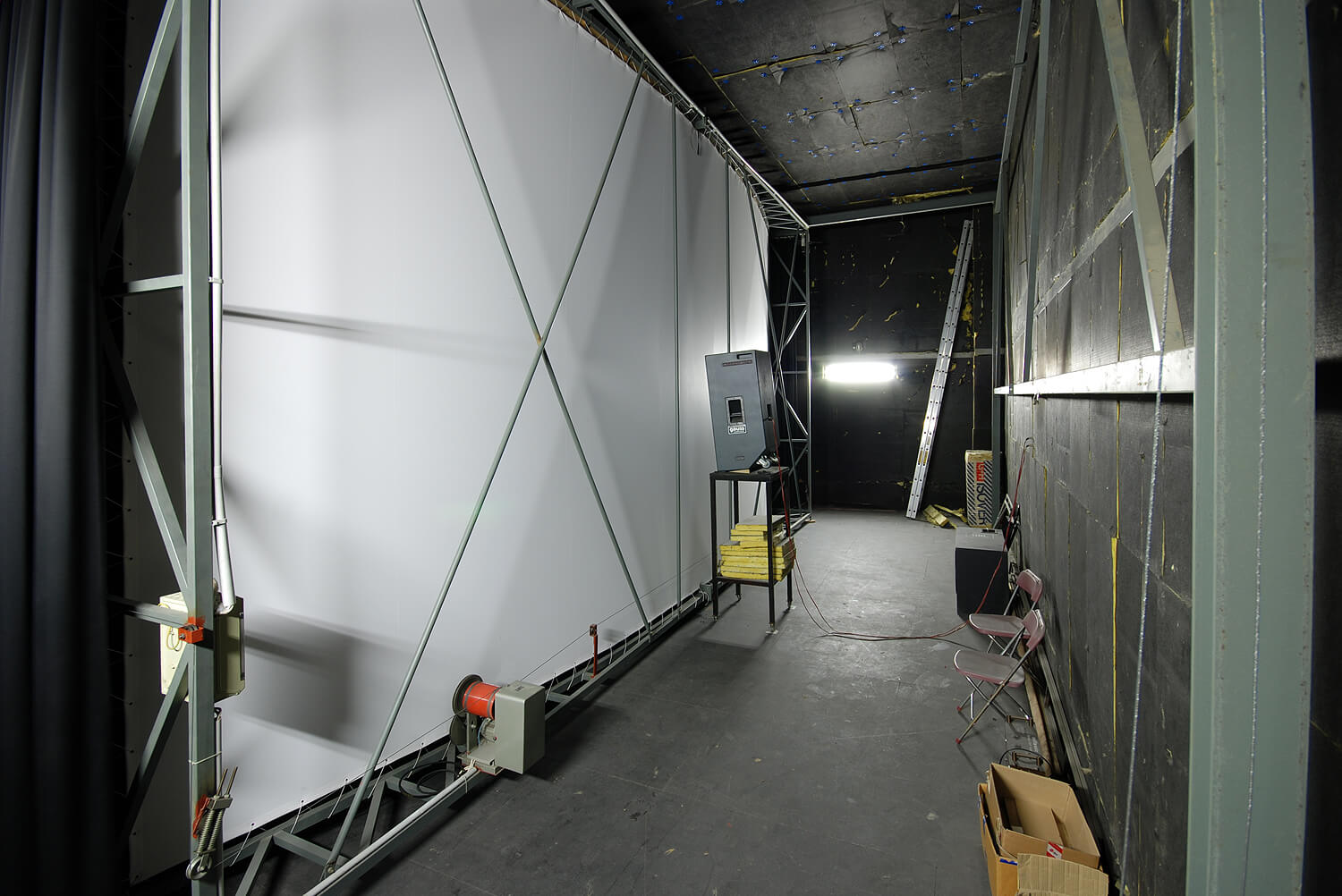 Screen in room 1 on rails, May 2020 © kinokompendium
Which performance or which event is one of the highlights of their
Time as operator?
Gerd Müller-Eh: What I really enjoyed was the twentieth anniversary in collaboration with the Neukölln Opera. There was a screening of a silent film with an orchestra and there were many guests who came to the passage from day one. That gave me great pleasure and I was very touched by the loyalty of the audience.
I understand that you are still excited about going to the cinema
operate.
Gerd Müller-Eh: (with enthusiasm in the voice) Yes! That always amazes me because I've been doing it all my life. When I was at school I cleaned cinemas, during my studies I showed and after my studies I became a theater manager. So actually I always stayed with the cinema.
Are you looking forward to cinema screenings again?
Gerd Müller-Eh: In any case. I'm bored of something like Netflix. I can't see that stuff on the little monitor anymore. It's just not fun and I don't watch the films there consistently, just zap around. In the cinema, on the other hand, I also watch films that may be difficult for me at first, but which unfold over time and then show me what they can do. I just stick to it in a completely different way. And for this reason I also hope that the audience will come back. That many feel the same as me.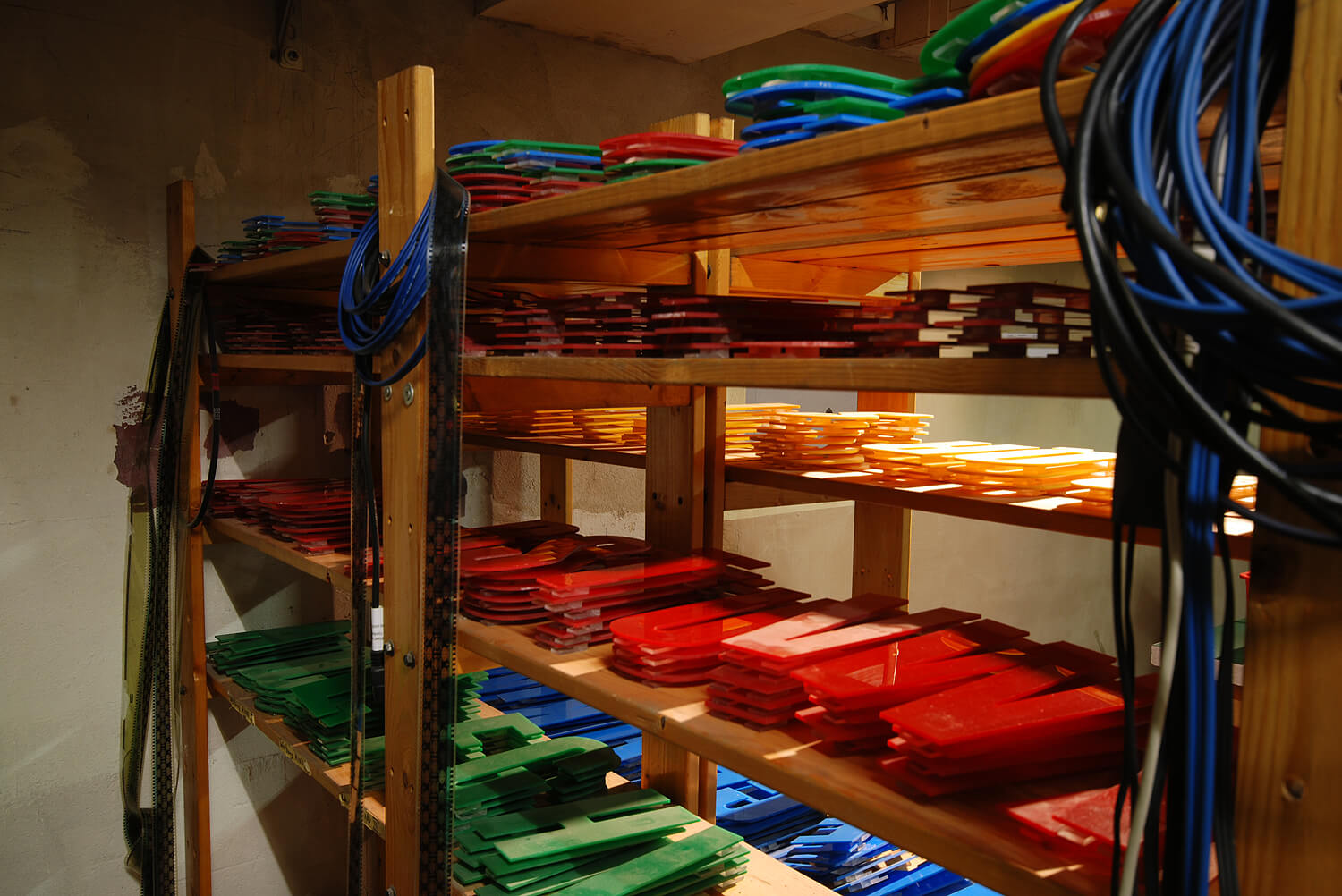 Letter collection for the advertisement, May 2020 © kinokompendium