The dream of women from Bangladesh
As soon as the sun goes down behind the concrete blocks of flats on Malatesta Square, women in brightly colored shalwar pants appear to take a break from the heat of the Italian summer day.
"Two days after I arrived here from Bangladesh, I started crying," says Sumi. The 25-year-old recently married her cousin who works as a baker in Italy. When he asked for her hand, she was initially happy to be able to move to another country, she says. "I thought we were going to visit Pompeii."
However, the couple are currently unable to travel. Sumi's husband works at night. Everyday life has become monotonous: she sleeps in the morning, cooks for him in the afternoon, and every now and then she manages to visit her aunts.
Sumi is a law graduate and would like to work. Your husband is against it. "He said, 'No, you're a housewife.'"
"The majority of Bangladeshi men want women to be penned up," says Salma Akhter Zaman. "Otherwise they could open their eyes and see that they too have rights." Zaman is also from Bangladesh and has worked as a cultural mediator in hospitals, schools and authorities. Language courses are the best way for newcomers to integrate into Italian society, she says. "But the husbands don't even allow that. They are afraid that the women will become too independent."
Second largest community in Europe
According to the Interior Ministry, around 140,000 people from Bangladesh with a residence permit live in Italy. More live in Europe only in Great Britain.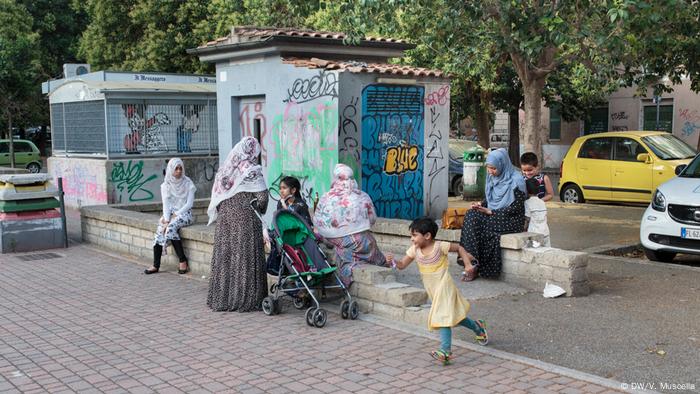 Bangladeshi women with their children in Tor Pignattara
Francesco Pompeo, an anthropologist who researches the everyday life of migrants in Rome, estimates the real number is higher: "A third of them do not have regular residence permits," he says.
"These are usually young women who have come here to live with their husbands," say the scientists Katiuscia Carnà and Sara Rossetti, who wrote the book "Kotha - Women from Bangladesh in Rome".
Male migrants looking for lucrative work in Europe are called probashi. After a few years abroad, her families choose a wife for her and arrange a wedding in Bangladesh. When the men come home to meet their future brides, they like to decorate their emigrant stories because the pride of the community at home is important. "Migration is a family project and those who travel are seen as the jewel," says Rosetti.
The reality in Italy is often harsher. Many Bangladeshi people leave large families behind and share small houses abroad with other couples or single men. Because their husbands work hard and only come home to sleep and eat, the world of women shrinks to the size of their tiny bedrooms.
"My job gave me drive"
"I was dead inside. The Italians had friends and families. I had no one," says the 46-year-old Sultana. She stands behind a counter with neatly folded saris and ankle-length skirts - lehengas - on it.
It was loneliness that motivated Sultana 18 years ago to open the first traditional Bengali fashion store in the Tor Pignattara district. "The store gave me a boost," she says. "A lot of women come by here today. It's like having an extended family." The support of her husband Nurum was crucial for the project, she admits. "I was freer than the other women because he always believed in me."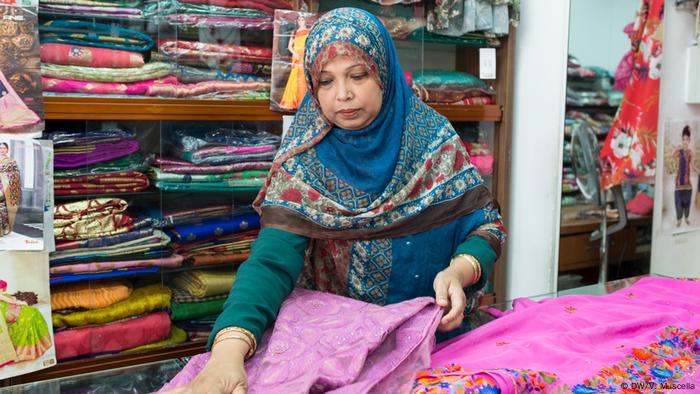 Sultana in her fashion store in Rome
Several self-help organizations are active in the neighborhood that are supposed to support women from Bangladesh. On a Thursday evening, the Mohila Somaj Collan Someti charity meets at Laila Fashion, another fashion store near Sultana's store. In four days there will be a picnic organized by the group at the Cascata delle Marmore, an artificial waterfall in the Umbria region. The store's employees have already booked two buses.
"We're just trying to help our women," says 46-year-old Laila Shah, who runs the club. She feels that men are still too much in control of their women. "Language and lack of jobs: these are the problems women face in this community." According to the Interior Ministry, more than ten percent of the 38,000 women work regularly.
The next generation
"I would think it would be great if women from Bangladesh would smoke and go out at night because that would break the stereotypes," says Sahila Mahiuddin, 28, when she speaks passionately, she gestures with her arms - all in Italian. Sahila was raised to be an open-minded woman. When her mother allowed her to stay outside at night, she gave her a simple piece of advice: "Hide from the rest of the community."
"People in Bangladesh are obsessed with 'manush ki bolbe', which means 'what are people going to say?'" Said Sahila. She has worked as a cultural mediator and is convinced that this attitude leads to harassment and violence in some couples, which are usually covered up.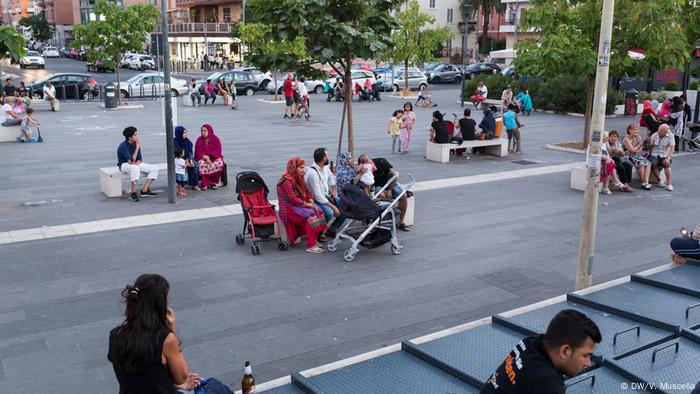 A family from Bangladesh in one of the squares in Rome
Like many of her countrymen who are second generation living in Italy, Sahila loves the culture of her family, but cannot stand prejudices and stereotypes. "Mohammed's first wife was a gifted trader. Therefore, the men who justify their sexism with religion are only opportunists."
Gradually things changed, says Sahila. Bangladeshi women increasingly worked as carers, cultural mediators, waitresses and hairdressers.
She has left behind the rebellious years in which she quarreled with her mother. She graduated from La Sapienza University, married a man from Bangladesh and works in a tax consultancy. But their views have not changed. "When I think about my future as a mother, I just want my children to be as free as possible."