Wonder Woman had a daughter
Guests online: 1

· Members online: 0

Total members: 13
· Newest member: DieHades

Publishing company: DC (© Copyright by TM DC Comics)

Surname: Wonder Woman

Right name: Diana Prince (Earthly alias name)

Other names / surnames: She has the official title of a princess (hence the earthly surname Prince)

First appearance: 1941 All-Star Comic No. 8

Creator: William Moulton Marston (comic book writer and inventor of the first polygraph) and his wife Elizabeth Holloway Marston

Super skills: Superhuman strength, reflexes and speed, ability to fly

Group membership: Justice League

Weapons / Equipment:
1. The "Golden Lasso of Truth" which forces the opponent it touches to speak the truth. Can of course also be used as a classic lasso and whip.
2. Her silver bracelets, with the help of which she can repel bullets thanks to her super-fastness.
3. Her golden browband is also used by her as a weapon.
4. Invisible jet.

Origin of their powers: Hippolyta, the queen of the Amazons, formed a baby out of clay, which was brought to life by the gods and endowed with superpowers.

Curriculum vitae:
Diana is the daughter of Queen Hippolyta of the Amazon tribe "The Amazons of Themyscira". This tribe was already 1200 BC. Brought into being by Greek gods. Originally they consisted of a few women who died prematurely (from the point of view of the gods). They were reborn on earth in perfect immortal bodies. They should spread decency and dignity among men.
But contrary to the plan of the gods, they isolated themselves more and more and they finally settled the island of Themyscira. Hence the name of the tribe.

Queen Hippolyta was finally granted the wish to have offspring. So she formed a child out of clay, who was brought to life by the gods Demeter, Aphrodite, Athene, Artemis, Hestia and Hermes. In addition, she was endowed with her superpowers. She got the name Diana from her mother in memory of a warrior who lost her life defending the island.
She won a competition launched by the gods. The winner was supposed to make peace in the "world of men" because the god of war "Ares" had the plan to start a new war.
When Ares found out about this competition, he wanted the whole island to be destroyed by an army bombing raid. However, the pilot (Stephen Trevor) crashed and was rescued by Diana. Diana was sent to a clinic by Hermes in Boston with the injured pilot. So she entered America for the first time, learned the English language and the manners of the people.

She soon used her superpowers for the benefit of humans (and against the fight against Ares) and became known as Wonder Woman. She also had a brief but violent relationship with Superman.
Over time, she faces many enemies. But only one stands out as her ezr enemy: the sorceress Circe, who hates the Amazons and especially Diana beyond measure.

In order to be able to fight the evil even more efficiently, she finally becomes a member of the JLA.

Wonder Woman in TV / Cinema: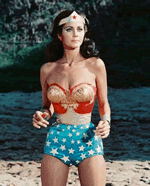 In 1975 there was an American television series with a total of 61 episodes. Wonder Woman was portrayed by actress Lynda Carter.





What does Wonder Woman need an Invisible Jet for?
One day she was asked that by superhero colleague Flash. After all, she could fly. Answer by Wonder Woman: You also have a car. Of course, the advantage of the jet is that the occupants are also invisible. Just remember where you put the thing off ...


Copyright notice: All DC Comics characters and the distinctive likeness (es) thereof are Trademarks & Copyright © 1939-2013 DC Comics, Inc. ALL RIGHTS RESERVED

There are no published comments.
Please log in to post a comment.
Please log in to leave a review.
---
No ratings have been submitted yet.

Not a member yet?
Click here to register

Forgot Password?
To request a new password, click here.