Mathematical Physics: Classical Mechanics
info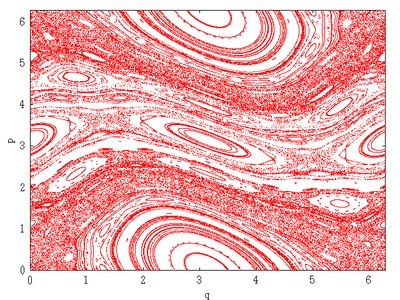 ---
learning goals
The students know basic concepts and methods of differential geometry, symplectic geometry and dynamic systems.
The students know the applications of these concepts and methods in classical mechanics.
The students safely apply the concepts and methods they have learned in the context of sample tasks and can transfer them to related contexts.
Using the example of classical mechanics, the students recognize how mathematical physics deals with questions from physics from the perspective of mathematics.
Content
Differential geometric basics, e.g. manifolds, tangential bundles, flows, tensors
Symplectic geometry
Dynamical systems, especially Hamiltonian systems, e.g. the theorem of Liouville and Arnold
Perturbation theory, KAM theorem
Exam
13.02.2017, 9: 00-10: 30, S11
---
Web forum
A discussion forum has been set up at https://forum.zdv.uni-tuebingen.de for a continuous exchange of information about lectures and exercises. You can log in there with your ZDV login.
---
Bibliography
The lecture is not based on a single book. The following books are suitable for accompanying reading.
mechanics


R. Abraham, J.E. Marsden, Foundations of Mechanics, 2nd ed., Benjamin Cummings, Reading, 1978.
V.I. Arnold, Mathematical Methods of Classical Mechanics, 2nd ed., Springer, New York, 1989.
A. Knauf, Mathematical Physics: Classical Mechanics, Springer, Heidelberg, 2012.
F. check, mechanics, 2nd edition, Springer, Berlin, 1990.
N. Straumann, Classic mechanics, Springer, Berlin, 1987.
W. Thirring, Textbook of Mathematical Physics 1 - Classical Dynamical Systems, Springer, Vienna, 1977.


Differential geometry


J. Baez, J.P. Muniain, Gauge Fields, Knots and Gravity, World Scientific, Singapore, 1961.
T. Frankel, The Geometry of Physics, Cambridge University Press, Cambridge, 1997.
M. Nakahara, Geometry, Topology and Physics, IOP Publishing, 1990.
C. Nash, S. Sen, Topology and Geometry for Physicists, Academic Press, London, 1983.

G. Rudolph, M. Schmidt, Differential Geometry and Mathematical Physics, Springer, Dodrecht, 2013.

Dynamic systems


A. Katok, B. Hasselblatt, Introduction to the Modern Theory of Dynamical Systems, Cambridge University Press, Cambridge, 1995.

Basics (differential and integral calculation in R.n)


M. Spivak, Calculus on manifolds, W.A. Benjamin, Menlo Park, CA, 1965.
W. Rudin, Principles of Mathematical Analysis, 2nd ed., McGraw-Hill, New York, 1964, [especially Chap. 9].