How have credit cards changed the world
Are Credit Cards At Risk?
Those who shop nowadays usually expect a smooth payment experience. In addition to the classic financial service providers, alternative payment providers such as Amazon, PayPal and Google are increasingly moving into focus.
Payments should be easy, convenient, flexible and secure - in some cases consumers even want to be "rewarded" for transactions. Customers only remain loyal to the providers of their cards if the service meets their requirements or expectations.
Transformation from within or disruption from outside?
This is why payment service providers nowadays only have two options: They can drive the transformation forward themselves - or they have to adapt to the disruption caused by competitors who want to dispute their market share. To avoid the latter, card providers must continuously provide innovative and new functions that offer their customers more security, value-added services, better collaboration and greater convenience.
The credit card of the future
Due to the changes in the payment traffic landscape in recent years, the importance of payment cards has changed significantly. The transformation has not only affected the types of cards companies offer - Gemalto has developed fingerprint credit cards, for example - but also the strategies and expectations of card providers.
How long, however, will we be carrying physical cards around in our wallets? Will the switch to cashless payment mean that we will eventually get by without a wallet?
How much longer will we carry around physical cards?
Payment networks such as Visa, Mastercard, Discover and American Express have built up extensive infrastructures, so-called "Payment Rails", for the worldwide processing of transactions. Since buying behavior is changing on the Internet, credit and debit card transactions are increasingly being processed via these "rails". The traditional plastic card we use to shop in stores is fading into the background. If cards are to remain the payment method of choice when shopping via digital channels, card providers will have to start fighting.
The status as the preferred payment method not only brings obvious sales advantages - such as interbank fees and interest fees. At the same time, card providers have access to a large amount of data thanks to this "top position in the wallet". With the help of this data and insights, card companies can offer an innovative and highly personalized customer experience in order to differentiate themselves from the competition or to generate new revenue streams.
Changing competitive landscape
With the introduction of the concept of "digital maps", map providers and their business models are at risk - regardless of their rank.
Card providers have access to more and more payment and account information, but new and more powerful competitors are emerging and want to take advantage of these opportunities too. Online players such as PayPal and Square are already able to expand their industry lead over traditional credit card providers thanks to their established online presence.
More powerful competitors are involved
As the dominance increases, other digital players are likely to enter the payments space as well. Apple, for example, is known to have a business plan for every industry. The company recently started offering its own credit card in collaboration with Goldman Sachs and Mastercard.
In the near future, social media players may also appear who link their user data with account information, for example to carry out quick credit checks or to provide banking services.
What does this mean for traditional card providers?
The most important conclusion: The marketing strategy should no longer focus on one piece of plastic. Marketers need to wonder how to build brand loyalty and attract customers in this changing market. At the moment, many customers are generated through cross-selling through partnerships. With the British Airways / American Express credit card, for example, customers can collect Avios points in their daily transactions.
And how do they fare in the digital landscape? Many providers compete for the position of "digital entrance door" for customers in order to benefit from additional account information. That means: card providers have to act quickly in order to remain competitive.
Trust, innovation and value-added services
In the short to medium term, credit card providers need to focus on trust. Thanks to the relevant regulations, bank customers can be sure that they are protected if a card is stolen. Apple Pay and other providers have not yet operated with the same assurances. But if mobile payments offer comparable guarantees, how can card providers prevent them from losing customers?
In the long term, card providers have to be careful not to degenerate into anonymous payment agents. They need to think about their role across the financial services ecosystem and develop new, innovative services that meet customer needs. Many future-oriented actors are planning to provide offers such as a 360-degree view of customers and advisory services for financial management.
The marketing strategy should no longer focus on a piece of plastic
By combining machine intelligence with data, other providers are already investigating how technology can create new customer and employee experiences that are simple, fast, transparent and engaging. For example, Mezi, the American Express travel app, uses AI to help cardholders pay for vacation and business travel based on their preferences. Similarly, Bank of America's virtual AI assistant, Erica, helps clients manage their finances effectively.
Only by creating these value-added services that are geared towards specific customer needs can card providers prevent the complete disruption of the industry and compete.
The author: Ramesh Ramani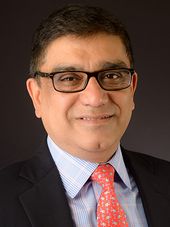 Ramesh Ramani is Senior Vice President, Head of Banking and Financial Services Europe, at Cognizant. Ramesh heads the European banking and financial services business and has nearly 30 years of experience in the global financial services industry.
In his role, Ramesh focuses on building and building customer relationships in the financial services space to drive sustainable growth and strengthen Cognizant's position in Europe.
He has been expanding the business area of ​​digitization of financial services since 2006. He focuses on services for investment banking, wealth management and consumer credit.
Prior to Cognizant, Ramesh Ramani was Vice President of Business Development at Intelenet Global Services.