You have a strange language, but your beer is great!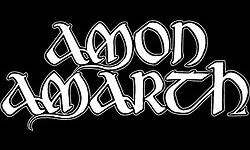 Interview with Amon Amarth
Death Metal from Sweden - Stockholm
AMON AMARTH bassist Ted Lundström kindly agreed to an email interview with the Bloodchamber. He answered the questions while in his tour bus bridging the time between the performances of the North American tour.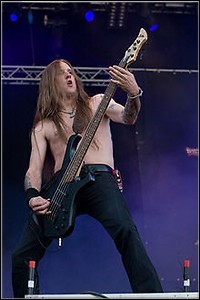 What is the difference between your current album, "Twilight Of The Thunder God", and the other AMON AMARTH albums or was it not necessary to change anything?
Ted: Oh, we never plan something like that, you know? I also think that something like this happens naturally when you are a better musician and you get older. You basically just focus on making each album better than the previous one.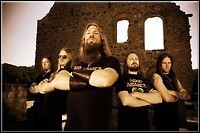 Where was the best concert you played at?
Ted: I think the Graspop Festival last year was great, but I thought our gig at Summerbreeze was even better because we had this huge Viking ship and the Vikings on stage.
Among other things, you already gambled at the Wacken Open Air in 2005. What do you like about Germany, what bothers you?
Ted: Well first of all I have to say that I think the metal scene in Germany in general is just great, just like your beer, haha. On the other hand, you have a very strange language (editor's note: And that's what a Swede tells us ;-)).
I read that your band name has its origins in "The Lord of the Rings". Is there any deeper meaning or did you just call yourself that because each of you likes the books?
Ted: No, it doesn't really mean anything, we just thought it sounds cool and sounds a little different. I suspect that I'm the only one in the band who could be described as a Lord Of The Rings freak.
What is it like to travel around the world and perform there? Isn't it hard to leave your house and family behind for several months? What do you do first when you come home from a tour?
Ted: Sure it's tough, but we were aware of all the consequences when we decided to go into show business. When I get home, of course, I try to spend as much time with my family as possible.
What kind of shows do you have planned in the near future?
Ted: After the current North American tour, we'll be playing the Unholy Alliance III tour in Europe with TRIVIUM and SLAYER. We are more or less fully booked with tours and shows until well into next year.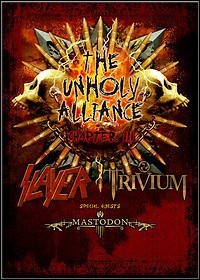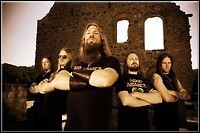 Which bands have a certain influence on your music? Is there someone you could call a role model?
Ted: To be honest, I don't have any role models, haha. I had them when I was younger, but not really anymore. There are many bands that influence us, mainly 80s heavy metal and thrash metal bands. Like Iron Maiden or Slayer.
What made you decide to start playing bass?
Ted: When I was younger my biggest idols were all bass players, Stevie Harris, Gene Simmons and Niki Sixx for example. I guess I wanted to be like her. Also, I always messed up the guitar horribly, haha.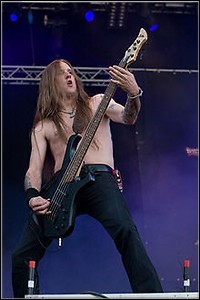 Please choose one of the following:
Studio or live performance?
Ted: Live performance.
Slayer or Metallica?
Ted: Slayer.
Fans: Americans or Europeans?
Ted: Both of them.
The last words are yours!
Ted: Cheers Viking hordes, see you out there!
published on 12.10.2008
-