Why is Europe protecting Syrians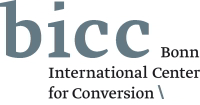 ---
---
27.03.2020 14:47
Comment \ EU at a crossroads: "Shield Europe from refugees" or "Protect refugees"?
Susanne Heinke public relations
Bonn International Center for Conversion (BICC)
In view of the Corona crisis, European refugee policy is currently taking a back seat. But the situation of refugees on the EU's external border, on the islands of the Aegean Sea and in other places on the edges of Europe is deteriorating increasingly, exacerbated by the global pandemic. Benjamin Etzold from Bonn's peace and conflict research institute BICC and other researchers from the EU-funded TRAFIG project are deeply concerned not only about the humanitarian situation, but also about EU politics. They are urgently calling for EU measures to protect refugees - and not from them.
The renewed "mass rush" feared by many at the external borders of Europe did not materialize for the time being. Even if there is no new "EU-Turkey deal" yet, the virtual meeting last week between the Turkish President and the heads of government of Germany, France and Great Britain, together with parallel negotiations, led to new commitments from the EU and European leading nations. Turkey will continue to be supported - and now reinforced again - in caring for refugees within the country and offering them professional and educational prospects. The humanitarian and diplomatic efforts to improve the devastating situation of the people in Idlib, the last rebel stronghold in Syria, are increased. And Greece will be strengthened in the expansion of border security without being forced to comply with basic human rights principles or the EU's own rules. In the meantime, the Corona crisis has made this latest episode of Turkey's active state of emergency on the European external border disappear from the headlines. Neither Turkey, Greece, Germany nor the EU Commission can now afford to pay full political attention to anything other than dealing with the state of emergency in the health system. But what do we learn from the last four weeks?

You can find the joint statement by Benjamin Etzold (BICC, Germany), Ferruccio Pastore and Emanuela Roman (FIERI, Italy), Panos Hatziprokopiou and Eva Papatzani (Aristotle University of Thessaloniki, Greece), Albert Kraler (Danube University Krems, Austria), all TRAFIG , as a pdf under
https://www.bicc.de/uploads/tx_bicctools/Kommentar_EU_Fluechtlingspolitik.pdf

The blog post in English
"The EU's shield and the institutionalization of protracted displacement"
is available at
https://trafig.eu/blog/eu-shield
---
Features of this press release:
Journalists, students, scientists, everyone
Society, politics
supraregional
Research projects, scientific publications
German
---