Tamales
Soak the corn leaves in hot water for 10 minutes. Then set aside. Gradually mix the margarine, baking powder, corn flour, turmeric and vegetable stock together until a uniform dough is formed. Stir in a little salt and pepper.
Clean the tomatoes and chillies and heat them in a saucepan. Chop the onion and add it.
Drain the beans and add them to the pot. Pound everything roughly until a lumpy, firm must is created.
Roll out the soaked corn leaves flat and flatten a dough ball in each leaf. Put a few tablespoons of grated cheese and bean must on the dough. Then fold the corn leaves together and connect them with kitchen twine.
Heat some water in a pot with a steamer insert and place the tamales in the steamer insert for 30 minutes. A quick alternative: heat in the microwave for 7 minutes at 800 watts. Cover to prevent them from drying out. If there are no corn leaves, do not wrap the tamales, as aluminum foil must not be microwaved.
The corn leaves are not eaten. Serve tamales with a sweet dip like chutney or with guacamole.
---
CC BY 4.0 - Albert Schweitzer Foundation for our environment.
Photo © Xhico - Adobe Stock
TamalesThis dish is eaten all over South America. Be creative with the filling!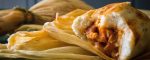 Join now
By clicking on »Register«, you agree to receive a personalized newsletter and surveys from the Albert Schweitzer Foundation for our community until further notice. This contains tips, recipes and background information on vegan nutrition. You can revoke your consent to receive the newsletter at any time, e. B. with an email to [email protected] Further information can be found in our data protection declaration.
Networking